The mother of a Palestinian toddler killed in a West Bank firebomb attack has been buried in her village after dying from the burns sustained in the attack, which also killed the child's father. The arson attack is believed to have been carried out by Jewish extremists.
On 31 July, assailants hurled firebombs into a bedroom of the family's home in the West Bank village of Duma in a pre-dawn attack, and sprayed graffiti on the walls depicting a Jewish star of David and the word "revenge". Eighteen-month-old Ali Dawabsheh perished in the flames.
The boy's mother, Riham, ran out of the house and a neighbour said he covered her in a sheet to try to extinguish the flames. She died in an Israeli hospital on Monday 7 September following a recent deterioration in her health.
Her 32-year-old husband had Saad died of burn wounds in August.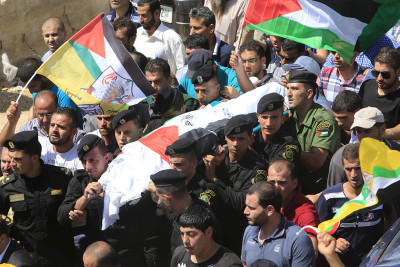 The only family member to survive is the couple's four-year-old son Ahmad, who is still undergoing treatment in an Israeli hospital for severe burns over most of his body. A relative, Amjad Dawabsheh, told Israeli Army radio that the boy has not been told what happened to his parents and brother. "How can we tell him, 'Your father and mother and brother died?'" he said.
Palestinian President Mahmoud Abbas declared three days of mourning and ordered flags lowered to half-mast, his spokesman Nabil Abu Rdeneh said. "If Israel is not stopped and held accountable, then Riham will not be the last victim of Israeli terror," said Saeb Erekat, an aide to Abbas.
Israeli Prime Minister Benjamin Netanyahu issued a statement expressing his condolences and saying "security forces are doing their utmost to apprehend the assailants and bring them to justice". The attack prompted pledges by Israel's government to get tougher on Jewish extremists in the West Bank — who have repeatedly attacked Palestinians and their property over the years.
The new measures allow the detention without trial of Israeli citizens suspected of political violence against Palestinians and harsher interrogations – measures previously reserved largely for Palestinian suspects.
However, the United Nations envoy to the Middle East, Nickolay Mladenov, said he was "concerned by the lack of progress in identifying and prosecuting the perpetrators of this outrage". Israeli authorities have not announced arrests or identified suspects in the July arson attack. Israel has imposed a gag order on publishing details of the investigation into the arson attack.
Human rights groups say few investigations into alleged Israeli settler crimes against Palestinians have resulted in indictments