Palestinian toddler burned to death in West Bank arson: Jewish settlers blamed for 'price tag' attack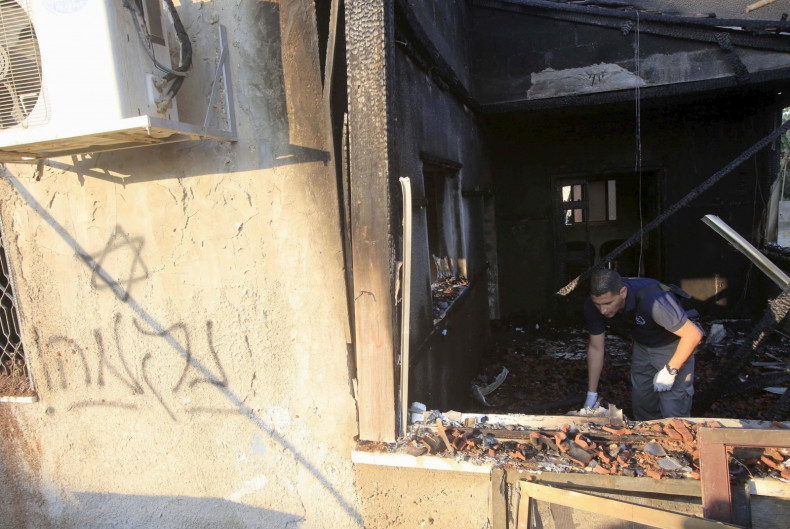 The Palestine Liberation Organization (PLO) has said it holds the Israeli government "fully responsible" for the brutal killing of toddler Ali Saad Dawabsheh in a 'price-tag' arson attack on 30 July. Jewish settlers are suspected to have carried out the attack on a Palestinian village in the West Bank. Saeb Erekat, Palestinian chief negotiator, called the assassination "a direct consequence of decades of impunity" given by the Israeli government to extremist settlers.
"We cannot separate the barbaric attack that took place in Duma last night from the recent settlement approvals by the Israeli government, a government which represents an Israeli national coalition for settlements and Apartheid. By continuing to approve settlements and incite against Palestinian presence, including calls to recognize Israel as a Jewish State, the Israeli government has paved the road for this brutal act," said Erekat in a statement.
Jewish settlers allegedly entered the village of Duma, near Nablus, and threw Molotov cocktails from the bedroom window of a house of a Palestinian family, scrawling graffiti on the walls reading "Long live the Messiah", "revenge", and "price tag". They also flung a burning object inside causing the fire to set off quickly.
As a result, 18-month-old Ali Saad Dawabsheh burned to death. At least three people were critically wounded in the attack, including a four-year-old child and their parents. They suffered burns on 75% of their bodies.
'Price-tag' is a term used by Jewish settlers to describe attacks – usually carried out against Palestinians but also targeting Christian churches and Israeli Arabs – in retribution or punishment for the Israeli government's actions perceived as pro-Palestinian. The attacks are aimed at exacting "a price" for government actions, such as demolishing settlements.
The Israeli army spokesman Lieutenant Colonel Peter Lerner said they were trying to find the suspects in the attack: "This attack against civilians is nothing short of a barbaric act of terrorism. A comprehensive investigation is under way in order to find the terrorists and bring them to justice.The [Israeli army] strongly condemns this deplorable attack and has heightened its efforts in the field to locate those responsible."
Israeli Prime Minister Benjamin Netanyahu called the attack a terrorist act: "I am shocked over this reprehensible and horrific act. This is an act of terrorism in every respect. The State of Israel takes a strong line against terrorism regardless of who the perpetrators are.'
Alarming trend
However, Ashraf B Khatib, a communication adviser for the state of Palestine, told IBTimes UK the Israeli government is directly allowing Jewish settlers to carry out these acts: "We are seeing a trend by the Israeli settler community in the West Bank and Jerusalem to target the Palestinian population. Khatib recalled last year's incident in which Palestinian teenager Mohammed Abu Khdeir was kidnapped and burned alive.
"This trend is encouraged by the Israeli government which allows and facilitate these actions by the settlers. The blame for this attack stays with Israel which allows the settlers to increase in numbers, the same settlers that burn mosques and churches in the West Bank," said Khatib.
"This is outrageous, but we will continue our struggle with all peaceful means. We seek international support to hold Israeli government accountable. We don't seek revenge, we seek justice and freedom. We're not interested in violence."
Khatib noted that Netanyahu recently approved the construction of 300 settler houses in Beit El, the occupied West Bank site where settlers clashed with police after the plans were revealed for the demolition of their homes.
Netanyahu came under pressure from his own Likud party, and pro-settler right-wing party Jewish Home, which is led by his Education Minister Naftali Bennett, to react to the Israeli High Court ruling to advance demolition of illegal settler buildings in Beit El. Bennett praised the prime minister's decision saying: "This decision is a Zionist response. This is the way in which we build our country".