On a West Bank hilltop one night in April 2014, an angry mob burned tires, threw stones and attacked Israeli Defence Forces (IDF) soldiers, who responded with tear gas and hid behind riot shields. Six officers were injured, two so badly they had to be taken to hospital.
The rioters were not Palestinians but hard-line Israeli settlers, who were trying to stop the army destroying makeshift buildings at the settlement of Yitzhar, one of the most infamous and radical settlements in the West Bank, which has been occupied by Israel since 1967.
Israel has constructed dozens of settlements in the West Bank since then, and as many as 300,000 Israelis live in the towns and cities that are considered illegal under international law. The settlements, which range from tiny villages to sprawling cities, such as Ariel, are protected by IDF soldiers and Palestinians are usually forbidden from entering them except for work.
But while Prime Minister Benjamin Netanyahu and his right-wing government is pro-settlement – indeed, a number of ministers live on settlements – the extreme right in Israel do not think he goes far enough. They consider the entire West Bank to be given to Israel by God, and by settling on remote hilltops or building illegally on Palestinian land they believe they are doing God's work.
When Israel periodically decides to demolish the settlements that it considers to be illegal, pro-settlement groups often react violently. Earlier this week when bulldozers moved in at another settlement near the Palestinian capital of Ramallah, dozens of protesters remonstrated with riot police and a number were arrested. IDF soldiers and border police were again attacked.
But it is not the IDF that bears the brunt of the attacks from right-wing settlers, it is the Palestinians. Since 2008 there has been a surge in attacks both on Arabs and their property in the West Bank under a tactic by extremists known as 'price tagging'. In reaction to perceived Israeli crackdowns on settlements, such as in Bet El, right-wing activists extract a price from the Palestinians nearby.
The destruction of Yitzhar last year led to one of the worst years yet for price tag attacks, with a surge in vandalism of Arab property in the run-up to the war in Gaza. A number of high-profile attacks on Arab schools and Christian churches prior to Pope Francis's visit to Israel and Palestine last year prompted prominent Israeli author Amos Oz to compare the attackers to neo-Nazis.
The murder of Mohammed Abu Khdeir in July happened when violence by right-wing extremists against Palestinians in Israel and the West Bank reached a nadir. Mohammed was kidnapped from his home in an Arab neighbourhood of Jerusalem, taken to a forest and burned alive by extremists that said they were avenging the death of three Israeli teenagers who had been murdered a few weeks earlier.
The shocking murder set in motion a series of events that would eventually lead to the 2014 war in Gaza, which saw 2,100 Palestinians and 73 Israelis killed in 51 days of brutal violence in the south.
The murder on Friday (31 July) of toddler Ali Saad Dawabsha in the village of Duma is arguably the worst 'price tag' attack that the West Bank has ever seen. It is thought that the killers were acting in response to the demolitions at Bet El, and burned down the Dawabsha family home with Ali Saad, his mother, father and brother inside. His mother remains in a critical condition.
Israel has pledged to find and prosecute the people who carried out the attack and, as with the murderers of Mohammed Abu Khdeir who are currently on trial in Jerusalem, they will likely be arrested in the coming weeks. But while the price tag movement and the ideology that is behind it is going nowhere, the zealots who believe that the entire West Bank was given to the Jews by God will not go quietly.
The extreme right has a small but vocal following in Israel, with movements, such as the Kahanists – who follow the teachings of racist rabbi Meir Kahane (assassinated in New York in 1990) – that are banned by the government but still show up at right-wing rallies and on the terraces of the football club Beitar Jerusalem, one of the most openly racist football clubs in the world.
In 2014, the Israeli Shin Bet claimed that price tag attacks were being carried out by a hardcore of Israeli youths (part hippies, part zealot thugs) who followed the teachings of radical rabbis from the infamous settlement of Yitzhar. Shin Bet said that the group amounted to around 100 young activists.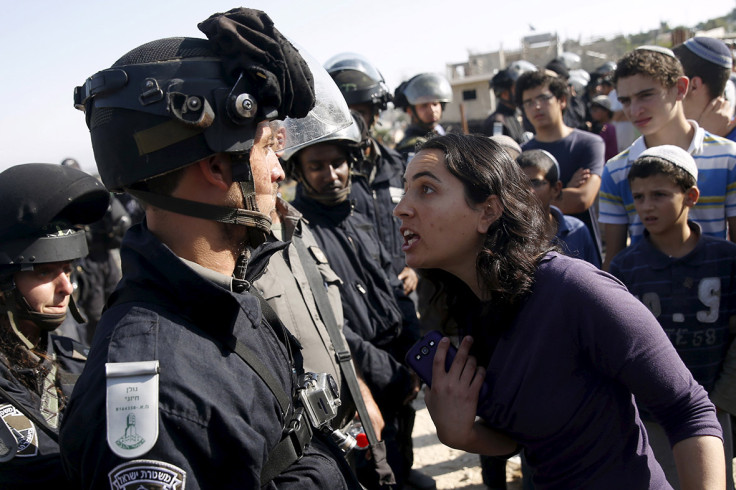 Critics say that it is too easy, however, to blame terrible crimes, such as the murder of Ali Saad Dawabsha, simply on a hardcore of extremists. Price tag attacks are increasing and yet only a fraction of those investigated by the Israeli authorities end in an indictment, let alone a conviction.
Liberal opinion in Israel and the wider Jewish diaspora has looked on in horror at the bloodlust. Amos Oz, one of Israel's most famous novelists, has hit out at radical Jewish settlers, labelling them "Hebrew neo-Nazis".
"We need to look this monster in the eye and call it by its true name," said Mr Oz, last year. "We wanted to be like all other peoples. We had hoped that the day would arrive in which there would be a Hebrew thief and a Hebrew whore. We also have Hebrew neo-Nazi groups. There is nothing that the modern-day neo-Nazis in Europe do that those groups don't do here."
The award-winning writer added: "Perhaps the only difference [with Europe] lies in the fact that our neo-Nazi groups enjoy the tailwind of quite a few lawmakers who are nationalists, and possibly even racists, and also a number of rabbis who provide them with a basis that, in my opinion, is pseudo-religious."
While high-profile demolitions take place every now and then, Netanyahu and his cabinet are openly pro-settlement. This policy only encourages those more radical settlement activists in thinking that the land of the West Bank belongs to them and not the Arabs.
"[Netanyahu] is trying to insulate the broader settlement movement from any fall-out [from price tag attacks]. There has been a broad Israeli condemnation but the reality is that price tag attacks have been going on for years without any real criticism from the Israeli government," said Hugh Lovatt, an analyst at the European Council on Foreign Relations, adding that of all the price tag attacks investigated by the Israelis since 2005, only 7.4% have ended in indictment.