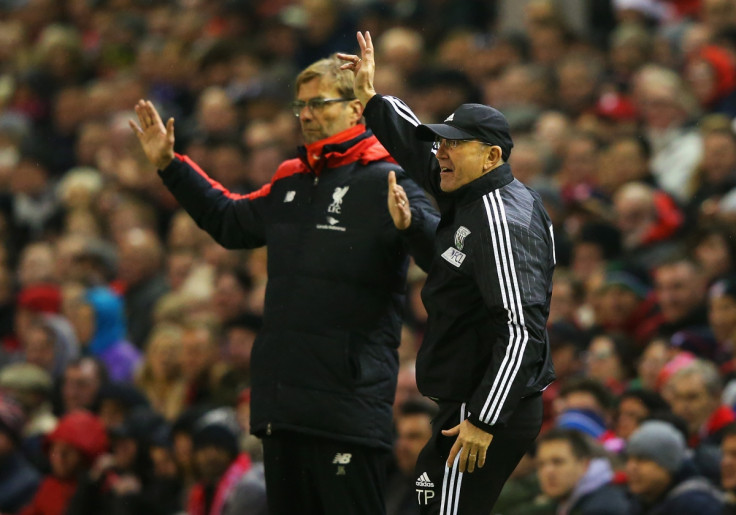 Tony Pulis has provided a cutting response to Jurgen Klopp after his Liverpool counterpart bemoaned West Bromwich Albion's tactics during their 2-2 draw at Anfield on 13 December. The Baggies rallied back from an early deficit to lead the match, with only Divock Origi's late equaliser preventing them from leaving Merseyside with a valuable victory.
Although Klopp subsequently declared himself satisfied with just a point from that contest, he also claimed that his team " played against a wall with only long balls and only set plays" and resolved that adopting such a style would no longer be allowed to secure a result against Liverpool. Pulis has given those claims short shrift, however, questioning the statistics involved and issuing a snippy apology that appears doused in sarcasm.
"I think it was disappointing but he's got his opinions and he can say what he wants," Pulis was quoted as saying by the Birmingham Mail at a press conference held prior to the visit of Bournemouth to The Hawthorns. "We apologise we actually played three longer passes in 99 minutes than Liverpool did in that game.
"As a football club we apologise to Liverpool for playing three longer passes. Everything you hear and everything talked about today there's always a bit of spin on it. If I had a team that was worth £200 million playing against a team that was worth less than £20 million and we never won that game I'd be doing my best to divert it away from the fact that I had 10 times more value on the pitch than my opposition number had and couldn't win the game.
"I'm just stating the facts. Forget all the spin, that's the facts. I don't know the fella, I don't want to say anything else. They were the facts. We've got a big game Saturday, a game that we think will be more difficult than the Liverpool game."
Pulis was not the only member of West Brom's travelling contingent to be irked by Klopp's comments. Earlier this week, winger James McClean said: "I've got respect for the man because he's done a great job at Dortmund, but I think he's a bit of an idiot if I'm being honest. In the game on Sunday ... you can't act that way. Win, lose or draw, you've got to be respectful."