West Ham United have been granted the anchor tenancy for the Olympic Stadium from the start of the 2016/17 season, the club have confirmed.
The Hammers were last December named the preferred tenants after from Leyton Orient, the University College of Football Business and a consortium linked with Formula 1 all submitted proposals.
The Stadium, last used in an official capacity for the Paralympic closing ceremony on 9 September, requires substantial renovation which could cost as much as £190m with the Treasury, Newham Council and West Ham all contributing.
The roof will be extended, the capacity will be reduced from 80,000 to 54,000, and retractable seats will help fulfil London Legacy Development Corporation [LLDC] obligations to retain the running track and successfully host the 2017 World and Paralympic Athletics Championships.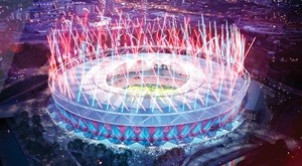 Mayor of London Boris Johnson: "It's a deal they said could never be done. This fantastic stadium will not only host community sports, but rock concerts, athletics like the Diamond League this summer, all sorts of sports where the ball is not necessarily spherical.
"And the stadium will be the home of a great football club that gave us Geoff Hurst, Bobby Moore and Alf Garnett as well."
Vice-chairman Karren Brady added: "I'm delighted that we have been confirmed today as the anchor concessionaire for the Olympic Stadium. I commend my two Chairmen for their passion and commitment. I am delighted this has been rewarded now that their ambition to see the Club they love enjoy a bright future at the Olympic Stadium has been realised.
"It was important to me that we struck a deal that would stand the test of time that represented the right deal for West Ham United and our loyal and patient supporters.
"The consultation we have promised them will now begin and we can't wait to work with them to create a stunning new home that befits the pride, passion and tradition that the world associates with West Ham United."
The Premier League club will pay around £2m per year in rental fees during the 99-year lease and should the club be sold as a result of the stadium move within the next ten years, co-owners David Gold and David Sullivan would be obligated to make a one-off payment to LLDC.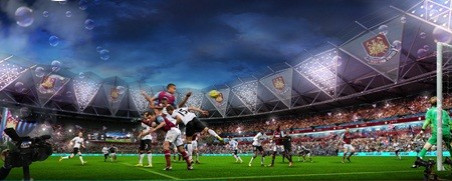 West Ham are only expected to fund £15m of the project, but will share subsequent catering, hospitality and naming rights revenue with LLDC while retaining all ticket and merchandising income.
Joint-chairman Sullivan and Gold added: 'It's fantastic for everyone at West Ham United that at last all the Club's hard work over the past three years has paid off. Since we came to West Ham in 2010 we have had a vision to really take the club forward so West Ham United can compete on the pitch at the highest level.
"Today's decision offers us a real platform to do this and we are fully committed to making it a real success. We understand the responsibilities that come with calling the nation's iconic Olympic Stadium, which will be converted into a world-class football stadium, our new home. It is an honour we will take on with pride.''
The move is subject to a judicial review after Orient chairman Barry Hearn submitted an appeal to the High Court claiming LLDC awarding the stadium to West Ham without discussions regarding 'teaming' was in breach of their rules.
"We're not satisfied with the procedure, and we've gone to the High Court to request a judicial review," Hearn said.
"Until there is a verdict from the High Court, everything announced today is subject to that decision.
"Leyton Orient are very close to the Olympic Park. We're concerned that West Ham going in on this would put us out of business, because they're going to dwarf us.
"So we said we'd like to ground share. And under the bidding process, West Ham, Leyton Orient and all the other parties agreed to the principle of teaming. But we've not been allowed to ground share, which we think will save our little club."