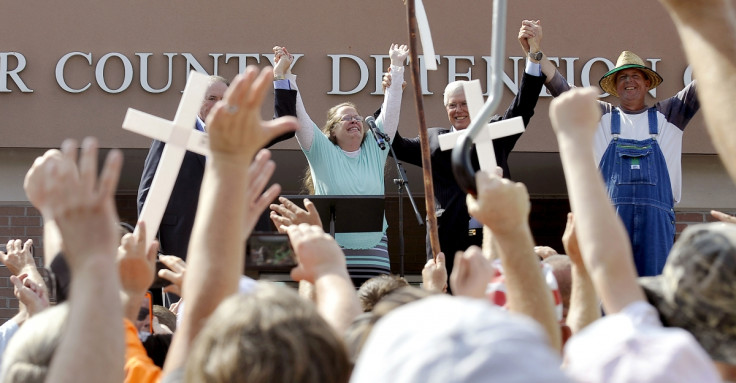 The Westboro Baptist Church announced it planned to picket in front of Rowan County Clerk Kim Davis's courthouse in Morehead, Kentucky on 19 October for living in "proud sin." In an unusual turn of events, the right-wing group said Davis "took an oath to uphold and defend the constitution" and that she failed to do so when she refused to issue marriage licences to LGBT and straight couples.
The group released a statement on 16 October saying that Davis must obey the law, including the marriage equality law upheld by the US Supreme Court. "Kim Davis needs to HUSH and OBEY the law that she helped bring about," it reads. The Topeka-based congregation also calls out the county clerk, who was briefly jailed in September, for being a "self-righteous" hypocrite.
"Kim claims that she has lived in proud sin for many years, divorcing and remarrying, not one or two times, in fact you need a score card to keep track," the WBC stated. "Her lawyers, being smooth talking fellows say that all that was before her call to salvation two years ago when her current mother-in-law died. Nice, tidy, clever, but no cigar!"
Westboro Baptist Church member Steve Drain spoke to Gawker and said the protest was focused on the "rampant hypocrisy of lukewarm Christianity" and not Davis' refusal to issue same-sex marriage licences. "God says no divorce and no remarriage, and God says no homosexuality and, therefore, no same-sex marriage," he said. "If [Davis] wants to declare the whole counsel of God and glorify His name...then great."
According to Gawker, Drain added that she should also condemn divorces and remarriages. The group also tweeted picket signs it plans to use, including one that reads, "Divorce, Remarriage & Same-Sex 'Marriage' Are All Sin". The projected protest is scheduled for 19 October at 8.30am ET, which a second, anti-LGBT protest occurring later that day at Morehead State University.