Pope Francis has claimed that the refusal to issue gay marriage licenses is a "human right", appearing to back a US city official who was jailed for failing to do so following a Supreme Court ruling.
Talking to reporters on the plane back from his historic trip to the US and Cuba, the Argentine pontiff waded into the controversial political debate surrounding the case of Kim Davis, a Kentucky county clerk who was jailed for refusing to issue a marriage license to a homosexual couple.
Asked if individuals have a right to refuse to abide by some laws, including the one on issuing marriage licenses to gays, Francis said that conscientious objection has to be present into every judicial structure "because it is a right".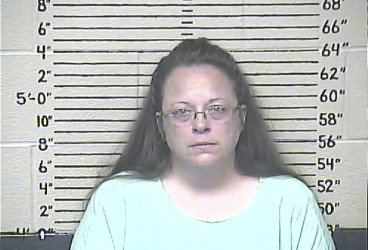 "I can't have in mind all cases that can exist about conscientious objection but, yes, I can say that conscientious objection is a right that is a part of every human right," he said, according to Reuters. "And if someone does not allow others to be a conscientious objector, he denies a right."
The Kim Davis case has surged into national significance in the US after 2016 Republican presidential candidates Mike Huckabee and Ted Cruz attended a rally with her after her release.
The 50-year-old Apostolic Christian said she and her family shifted to the Republican Party because the Democrats no longer represented them. She justified her decision to refuse marriage licenses to gay couples as contrary to her faith.
"My husband and I had talked about it for quite a while and we came to the conclusion that the Democratic Party left us a long time ago, so why were we hanging on?" she told Reuters.
Davis was jailed for five days in September for refusing to comply with the order of US district judge David Bunning to issue licenses to homosexual couples, in the aftermath of a Supreme Court ruling that made gay marriage legal across the nation.