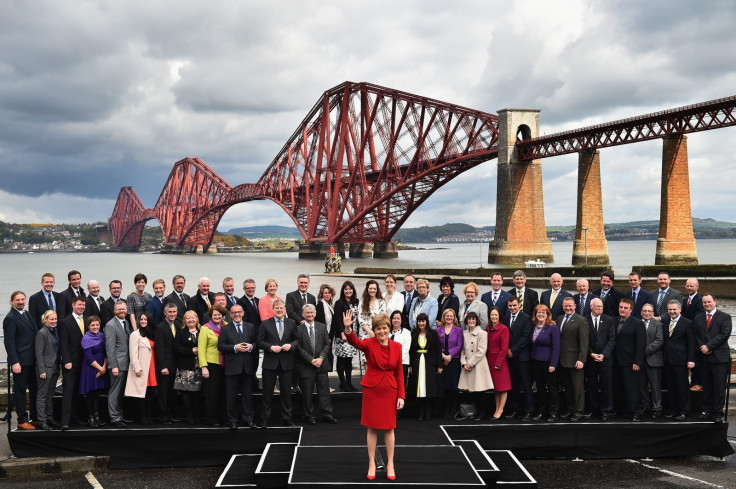 The SNP gave the Westminster establishment an early warning of their mischievous intentions when the party's MPs took a tour around parliament earlier this week.
The naughty nationalists breached House of Commons etiquette by taking photographs by the green benches and sharing the snaps on social media site Twitter.
The rebel representatives also attempted to wind up a Tory MP when he told them to show their support in the Commons with a "hear, hear" instead of clapping. Simon Burn's advice was met with applause.
The induction day came after the SNP crushed Scottish Labour at the general election, a victory that saw the party's MPs surge from six to 56.
Phil Boswell, the newly elected representative for Coatbridge, Chryston and Bellshill, told IBTimes UK that "every single" MP he met was welcoming.
But the nationalist stressed that his party will not be afraid of ruffling a few feathers over the next five years.
"We are under no illusions, the tale does not wag the dog. We are looking at something akin to switching back to Keynesian economics instead of the monetarism that has been in place. This is an epic shift," he said.
"We think it is right and we know that there's enough people who feel the same way we just have to fight hard. We will take a lot of knocks. But we're not there to be liked, we are there to do a job."
Boswell, who has worked in the oil and gas industry, is used to the London-lifestyle. But the SNP MP said he plans to get away from the "privilege" of Westminster and spend a lot of his time in his constituency, describing the contrast between the ever-affluent capital and his seat as "frightening".
The MP offered an indication of what is in store as the SNP have their biggest say in the Commons. "The system needs a good shaking, but it's got to be the right type of change," he said.
The comments come as Nicola Sturgeon meets with David Cameron to discuss the prime minister's devolution plans for Scotland.
The SNP leader makes no secret of her anti-Tory stance but Sturgeon said she would work with Cameron in a bid to win over more powers from Westminster.
Cameron, meanwhile, has been pressured by some of his backbenchers to offer Sturgeon full-fiscal autonomy in a bid to "call the bluff" of the nationalists with full tax and spending controls.
The negotiations will be a balancing act for both leaders as Cameron attempts to keep the union together while Sturgeon moves Scotland towards an even more devolved members of the UK.
The Commons will meet for the first time after the election next Monday (18 May). Westminster will brace itself in the meantime for the new SNP cohort.