Prime Minister David Cameron travels to Scotland on Friday 15 May to face his new auld enemy, Scottish National Party (SNP) leader and First Minister Nicola Sturgeon.
While Cameron is offering Scotland the "the strongest devolved government anywhere in the world", with more powers to set income tax rates and influence welfare spending, Sturgeon wants complete control over tax and spending. And, if she doesn't get what she wants, she could put in motion moves for another "Yes/No" referendum on Scottish independence.
"We want to see devolution of powers over employment policy, including the minimum wage, welfare, business taxes, national insurance and equality policy," Sturgeon told the Scottish Parliament in Edinburgh.
She said she wanted Cameron to look again at London's proposals, which were drafted with the agreement of all Britain's traditional parties, with "a with a view to extending devolution even further."
The 17 March general election saw the SNP win 56 of the 59 Scottish seats in the House of Commons. The three other main parties, the Conservatives, Labour and the Liberal Democrats were left with one each.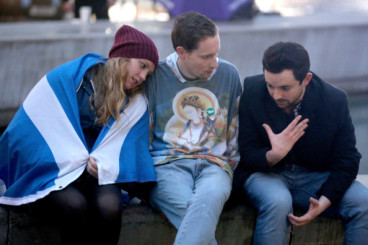 Sturgeon and Cameron have already publicly clashed over a new referendum: Cameron says there won't be one. Sturgeon says that is not Cameron's call but a decision for Scots.
Her predecessor, Alex Salmond, 60, who stepped down as SNP leader after last year's referendum and will now take up a seat as an MP, told reporters he still expects to see independence in his lifetime. "This is the latest staging post in what seems like progress for the Scottish people."
Under draft laws which Cameron is expected to pass, Scotland will have control over tax revenues worth £20bn a year and welfare spending worth £2.5bn annually. However, some taxes the SNP wants control of are excluded.
"The government has already said there will be very significant further devolution, there was cross party agreement on that," a spokesman for Cameron said. "The prime minister of course will regularly meet and discuss with the first minister of Scotland. I think it is fair to characterise things as getting on with the further devolution that has been promised to the people of Scotland."
The SNP is up for election again, for the Scottish Parliament, in May 2016. Some voters say Sturgeon's new mandate means she has no excuse if she fails to deliver on her promises.
"I voted 'No' in the referendum, but now they [the SNP] have five years in which they can prove themselves and they can deliver without blaming everything on Westminster," said Eilidh Maclean, a 19-year-old IT worker in oil city Aberdeen.
"This is Nicola Sturgeon's time, she can't blame anyone else, she's got all the power that she needs to deliver everything that she promised. And if she can't do that, she can't deliver on independence."