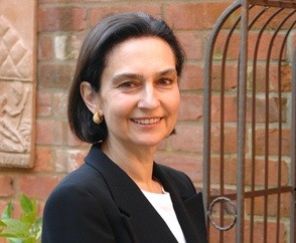 Cynthia Hall may become the first ever female head of any of the major public schools in Britain.
She is among those rumoured to replace Stephen Spurr at the historic Westminster School when he retires next year.
There has never been a female head of any of the schools that fell under the Clarendon Schools umbrella - Charterhouse, Eton, Harrow, Merchant Taylors', Rugby, Shrewsbury, St Paul's, Westminster, and Winchester College.
Clarendon Schools were part of the former Clarendon Commission, which led to the Public Schools Acts that regulated the schools.
Hall, who is the head of girls' boarding school Wycombe Abbey, has been tipped as one of the frontrunners for the prestigious post.
According to The Londoner section of the Evening Standard, Hall has been suggested as a potential successor for Spurr who will have been head of Westminster for nine years by the 2013/14 academic year.
Hall's husband, Tony, was recently appointed director-general of the BBC.
Making headlines
The headmistress made headlines in 2010 when she said that A-levels stifled creativity.
She said that because of the amount of material available on how to do well in an exam, there is no reason student should not be able to get good grades.
"There's nothing wrong with demonstrating that a student has studied and done a good job of work. The problem is that we need to have ways of demonstrating originality and creativity. I don't think that's something that's available, it does not provide that."
Westminster School has had male headmaster since 1540, when John Adams took charge of the school. It is a boy's school until sixth form, when girls are permitted to attend.
A secretary at the office of Spurr said they did not know who his successor would be. "Dr Spurr is retiring but I have no idea who will succeed him. It's possible that it could be a woman but it's half-term, so there's no one around at the moment."
Other people tipped to take over from Spurr include Richard Cairns, Tony Little and Anthony Wallersteiner.
Cairns is currently head of the Brighton College and Little has been at Eton for over 10 years. Wallersteiner has been the head of Stowe School in Buckingham since 2003.
The final application date for the role of head at Westminster School is 23 April. The successful candidate will be rewarded with an attractive and competitive salary, free corporate medical scheme and a rent-free family home, located a few minutes' walk from the school.