Westminster terror attack: Blood-soaked woman pulled alive from River Thames
Victim being treated by paramedics after witnesses reported seeing body 'floating face down' in water.
A woman has been pulled alive from the River Thames after witnesses of the suspected terrorist attack in Westminster said they saw a body floating face down in the water.
The attack on Wednesday 22 March saw several pedestrians on Westminster Bridge mowed down by a grey Hyundai 4x4.
The vehicle then crashed into railings. A man was then seen running on foot through the gate of the Palace of Westminster before they stabbed a police officer. The suspect was then shot.
At least one victim – a woman – has been confirmed dead, with others left with "catastrophic injuries".
But fears of a second victim fatality grew after witnesses reported seeing a body in the River Thames.
The London Port Authority subsequently said a woman had been pulled alive from the water and was being treated by paramedics, having suffered serious injuries.
It is believed she may have fallen over the side of the Westminster Bridge railings as the car hit pedestrians.
Steve Voake, 55, who was walking across the Westminster Bridge towards the South Bank in the aftermath of the attack, said: "I saw a trainer lying in the road and when I looked more closely I saw that there were a couple of bodies the other side of the road.
"And when I looked over the side there was another body lying in the water with blood all around it."
One unnamed witness, also on Westminster Bridge, told Sky News he also saw a body lying face down in the water next to the bridge.
He said: "It was fairly busy. A bus stopped in front of me. I saw a trainer, a shoe, in the road and I thought somebody must have been hit by a car but I saw a body on one side of the road.
"I saw a body on the other side of the road and I saw a body in the water. They were lying face down in the water."
Detectives say they are treating the incident as a terrorist attack and have urged people to stay away from the area to allow emergency services to treat the injured.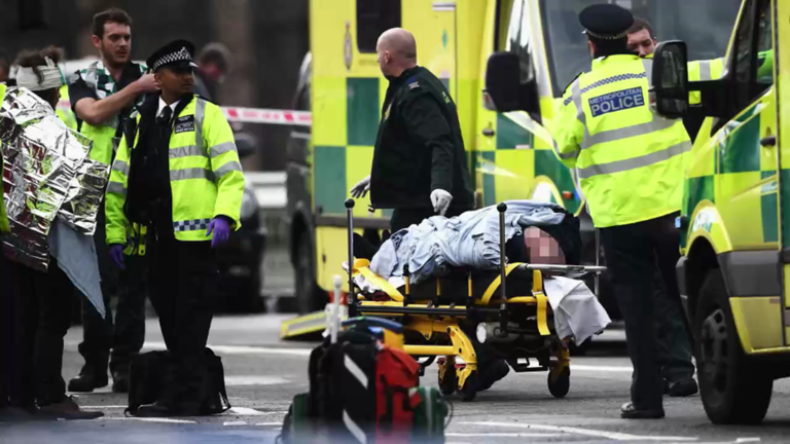 The Met Police said it could not confirm the number of casualties, which included police officers.
Witnesses told IBTimes UK of the moment they heard loud bangs as the incident unfolded at about 2.40pm.
Tawhid Tanim, a sales consultant, was on a break and stood by the entrance to Westminster tube station. He said: "All of a sudden all I could hear was 'bang, bang, bang' about five or ten feet away from me and people just started running away and I didn't know what was happening.
"I had gotten a little bit further a saw a car had smashed into the wall and people started running all over and literally a few seconds after police were saying 'move, move, you have to move', we just started running, I could have lost my life or something.
"I had that feeling that I'm going to die. All I could see was that a car was smashed into the Parliament wall and looked like a person under the car and some people were trying to help.
"I could see something was happening on Westminster Bridge as well and the police just shouted 'run, run!'
"All I could see was someone trying to help someone under the car."