Victims and relatives of those killed in the Westminster terror attack have taken part in a "service of hope" alongside the Royal Family and the first responders who rushed to their aid.
The service at Westminster Abbey on Wednesday (5 April) took place just yards from where Khalid Masood killed three people after mowing down crowds in a rented 4x4 vehicle. He then stabbed a police officer to death before being shot and killed himself.
Candles were lit and held by the nearly 2,000-strong congregation to say that light would always overcome the darkness inflicted by deadly acts of terror.
The service was lead by the dean of Westminster, John Hall, who said: "At a time of sorrow, a time when we are tempted to despair, may we find hope."
Melissa Cochran, from Utah, lost her husband Kurt Cochran in the attack and attended the service.
She arrived in a wheelchair, accompanied by her parents, after she broke her leg, ribs and suffered head injuries in the attack. Her image from the attack on 22 March was among the most harrowing captured.
She paid tribute to her late husband of 25 years, but said she had "no hate" towards Masood.
"Kurt was probably the best man I've ever met," she told the BBC.
"He was sweet and kind and I'm extremely proud of him. And I'm very happy that the world now knows what a wonderful man he was.
"He would probably hate all the publicity. He's a very private kind of person: very generous, very sweet and the love of my life."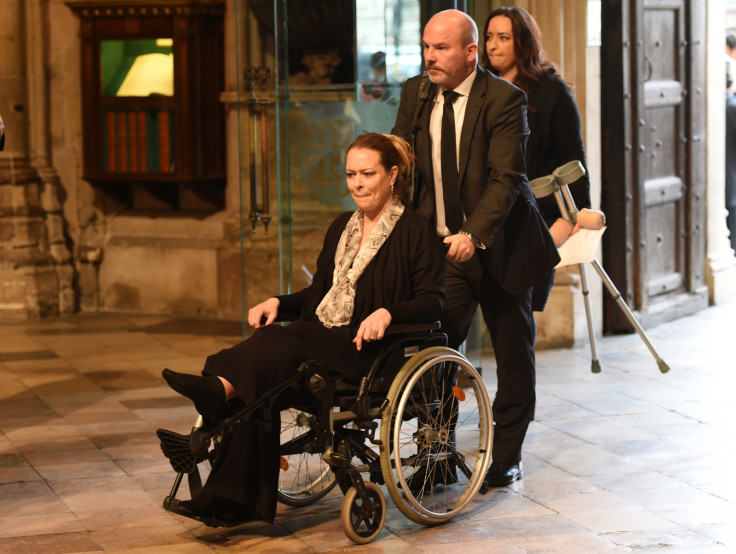 Asked about how she feels towards Masood, she said: "I don't feel any ill will towards him.
"I don't know what he was feeling or thinking, or anything that had been going on in his life. And so I can't relate.
"I just know that unfortunately he didn't have the qualities and the beautiful heart that my husband had. So, I actually feel a little sorry for him. No hate."
She described the service as one of the most beautiful things she had ever seen and something that her husband would have loved.
The others who died in the attack include Aysha Frade, 44, Leslie Rhodes, 75 and PC Keith Palmer, 48.
Their families were joined by rows of servicemen and women dressed green and blue, representing the paramedics and police officers that attended the scene.
Dame Eileen Sills, of Guy's and St Thomas' NHS Foundation trust, applauded the public servants who "ran without any thought of whether it was safe to do so because it happened so quickly, they had no idea of what they were going into".
A number of politicians were also in attendance including London Mayor Sadiq Khan, Labour leader Jeremy Corbyn, Home Secretary Amber Rudd and Speaker of the House John Bercow.
Labour MP Mary Creagh said: "We saw the worst of humanity with the terror attack... but we also saw the best of humanity, coming together, and we saw that again today, in renewed resolution, and solidarity with the families."