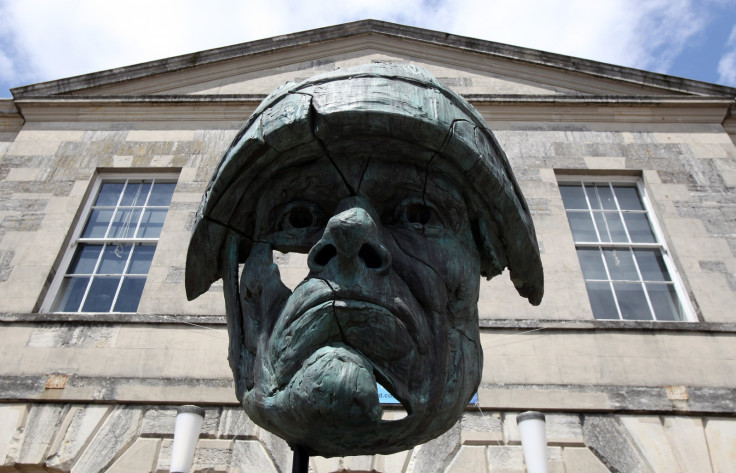 Public money given to charities supposed to support UK veterans has been spent on controversial and untested treatments.
Some of the £5m ($6.5m) handed out from a fund created by fining bankers has gone to pay for therapies including neurolinguistic programming, Time Line Therapy and craniosacral therapy.
Concerns have been raised over whether it is appropriate to offer these treatments to veterans, some of whom have serious mental health concerns.
"We just don't know whether it works at all," said Neil Greenberg, professor of defence mental health at King's College London and lead for military and veterans' health at the Royal College of Psychiatrists told The Sunday Times.
"The reason I think charitable providers use it is you can send someone who doesn't have any professional qualifications on an NLP course and in a couple of weeks they can quickly become a Time Line therapist or whatever."
But what are these therapies and what do they claim to achieve?
Neurolinguistic Programming (NLP)
David Shephard, through the Warrior Programme, has been offering NLP to military veterans. His personal website refers to him as "one of the world's leading personalities in personal development and a specialist in NLP".
It also claims that he is able to "remove anything from a phobia to recovering from PTSD (Post Traumatic Stress Disorder) in less than three days".
NLP has been described as "a method of influencing brain behaviour (the 'neuro' part of the phrase) through the use of language (the 'linguistic' part) and other types of communication to enable a person to 'recode' the way the brain responds to stimuli (that's the 'programming') and manifest new and better behaviours".
In practice, NLP involves a wide variety of techniques, including hypnosis, visualisation and verbal patterning. There is no one agreed definition of what makes up NLP.
Studies have repeatedly called into question the value of NLP, with Professor Jackie Sturt of King's College London saying there is "little evidence" of its benefits.
When used on veterans suffering from PTSD, NLP has been said to make their condition worse.
Dr Neil Kitchiner, head of the NHS All Wales Veterans Health and Wellbeing service, said he has not seen evidence of the treatment working. Dr Kitchiner treated patients of Healing the Wounds, a Welsh charity which had been using NLP on veterans.
"None of them are cured as far as I've seen, after three days treatment," he told the BBC. "Some have been made very unwell as a result of going there and have needed a lot of support from NHS and veterans' charities."
The Warrior Programme was given £933,000 from the Libor fund.
Time Line Therapy
Also employed by the Warrior Programme, Time Line therapy is "completely separate" from NLP, Shephard told The Sunday Times.
However Time Line therapy, described as "a way to resolve significant events in a person's past, which is in alignment with how the unconscious mind already operates", was invented by Tad James who also calls it the "latest development in NLP".
The Farlex Partner Medical Dictionary, describes Time Line therapy as a way of "releasing negative emotions and revising limiting decisions, that directs the client, in a dissociated state, to return to significant past events with new resources so that negative emotions can be released or limiting decisions revised".
A former patient of the Warrior Programme told The Sunday Times the two courses he attended, led by Shephard, were "made to overpower you" and used "all sorts of programming techniques, hard-sell US sales techniques and Pavlovian conditioning on a completely unsuspecting audience".
He said one attendee, a policewoman, broke down in front of everyone and started crying. Neither Time Line therapy nor NLP is approved by the National Institute for Health and Care Excellence.
Charlotte Cole, a spokeswoman for the Warrior Programme, said: "We run our courses very carefully. There is no mumbo-jumbo, there is nothing odd happening on the courses, it's very practical."
Craniosacral Therapy (CST)
Veterans Outreach Support was given £414,000 and spent much of it on giving veterans craniosacral therapy.
According to the College of Craniosacral Therapy, CST is an "exceptionally gentle yet extremely powerful form of treatment, increasingly recognised for the depth of its influence, the comprehensive range of its therapeutic effects, and its ability to resolve issues that are not helped by other means".
CST practioners will apply a series of light touches to the head and body of their patients, aimed at "manipulating the joints of the cranium" which "stimulates the flow of the cerebrospinal fluid".
CST has been claimed to be effective in treating conditions including bad backs, cancer and autism.
The theory behind CST is based on the observations of American osteopath William Sutherland, who claimed that certain structures within the skull were "bevelled, like the gills of a fish, indicating articular mobility for a respiratory mechanism".
The majority of the claims made by CST practitioners, including that the bones of the skull can be manipulated, have been refuted.