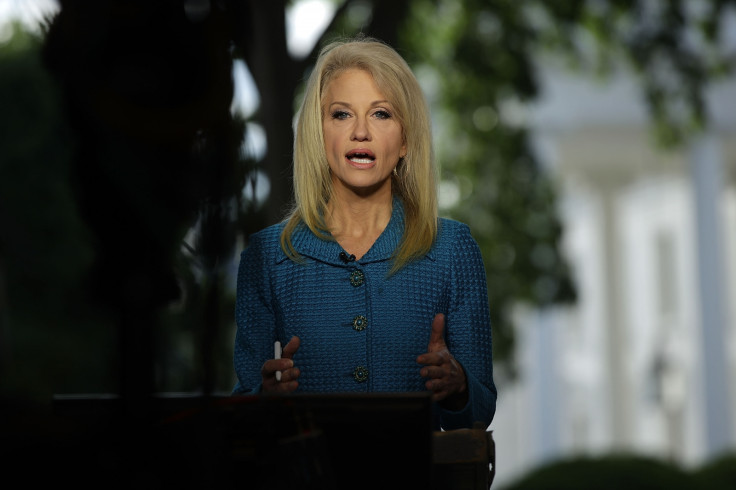 White House aide Kellyanne Conway has slammed the media for "obsession" with US President Donald Trump's tweets after his recent slew of posts in the aftermath of the London terror attacks drew fierce criticism. Over the weekend, Trump posted multiple jolting tweets over his controversial travel ban, the Justice Department, Democrats and even a sharp rebuke of the mayor of London.
In a wide-ranging interview on NBC's Today Show on Monday (5 June), Conway criticised the media's "obsession" with Trump's tweets saying it covers "everything he says on Twitter and very little on what he does as president".
In the wake of the London terror attacks that left at least seven people dead and dozens more injured, Trump slammed Mayor Sadiq Khan in two tweets in which he misconstrued a statement from Khan.
During the attacks, he also pushed for his travel ban that bars travellers from six Muslim-majority countries from entering the US. His tweets drew a massive backlash from critics accusing him of "shamefully" politicising the incident.
Trump later accused his own Justice Department of "watering down" the travel ban and complicated his case in the Supreme Court on the issue saying: "People, the lawyers and the courts can call it whatever they want, but I am calling it what we need and what it is, a TRAVEL BAN!" he tweeted.
When an NBC anchor pointed out that Trump often turned to Twitter as his preferred method of communication with the public and media, Conway quickly retorted: "That's not true."
"Well, he hasn't given an interview in three weeks. So lately it has been his preferred method," the anchor said.
When asked whether Trump owed Sadiq an apology for his tweets, Conway defended the president saying it wasn't a "political attack".
"The president stands firm with the people of the UK," Conway said, adding that she wasn't going to allow the president to be "seen as the perpetrator here".
"We've got the 23rd Isis inspired or Isis directed attack, taking innocent lives... and we want to put some blame worthiness here on President Trump. I'm just not going to allow it," Conway said. "He's what he's doing as president of the United States and commander in chief, he's standing firm because an attack on London is an attack on American values also."
She later took to Twitter to clarify that she never asked the media to ignore the president's tweets, but suggested they focus on his actions as president.
Twitter immediately slammed Conway's remarks on the media's so-called obsession with the president's tweets arguing that his 140-character messages are presidential statements and should be covered by the media.
Others also mocked her suggestion for an increase in coverage of his actions as president with one Twitter user saying "all he's actually done is very little".
"But all he does as president is say things on Twitter," one Twitter user wrote. Another wrote: "'Very little' is exactly what hes done as president."
"Oh, Kellyanne, we also talk about his irresponsibility leaving #ParisAccord, the FBI investigation, his despicable heath care plan & golf," one person tweeted.