Team USA Olympian Simone Biles may have more than one reason to celebrate after she secured her fourth gold medal on 16 August at the Rio 2016 Olympics. The star gymnast not only made her country proud, but got to spend some memorable moments with her celebrity crush Zac Efron.
The Baywatch star paid a surprise visit to the American gymnast on Tuesday (16 August) at Rio and Biles was thrilled to pose for some photos with her crush. Just as the 19-year-old thought that she was going to click an adorable picture, the Baywatch starsurprised her with a quick peck on her cheek.
"Just call me mrs. efron already @ZacEfron," an ecstatic Biles tweeted along with the photo of Efron kissing her.
She also shared a sweet video on Twitter, where Efron is heard asking Biles to inform him "when it's going [the video begins]". As soon as the teenage Olympics champion said "it's going", the Neighbours actor kissed her.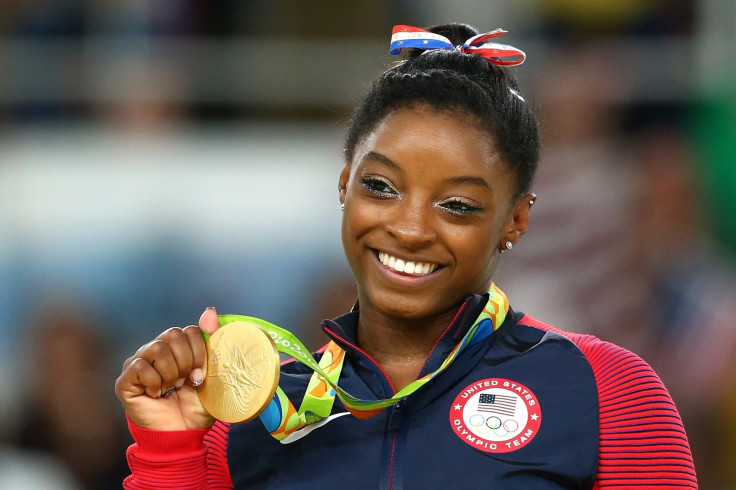 "Proof: had to do a retake bc I thought we were taking a picture then he kissed me instead," Biles captioned the clip followed by a heart emoticon.
Biles's Twitter was later on flooded with cute photos of the duo; she even retweeted one of Efron's post, which was a collage of pictures featuring the actor and the gymnast. "Surprise!! #Rio2016 #Gold #FinalFive," the Disney alum had captioned his photo.
Efron, who recently split from girlfriend Sami Miro, took the opportunity – arranged by Today host Hoda Kotb – to not only surprise his famous fan, but the entire Team USA. Sharing a group picture with the Final Five gymnasts, the 28-year-old actor wrote, "My Olympic dream came true #Rio2016 #FinalFive."
Friendship grew between Efron and Biles after the American gymnast reportedly confessed on The Ellen DeGeneres Show about her crush on the Dirty Grandpa star. The online friendship soon evolved into a saga of tweets as the actor cheered her throughout the games with adorable posts.
"So phenomenal a skill's named after her. Congrats on sticking the Biles and qualifying for the finals @Simone_Biles!" he tweeted.