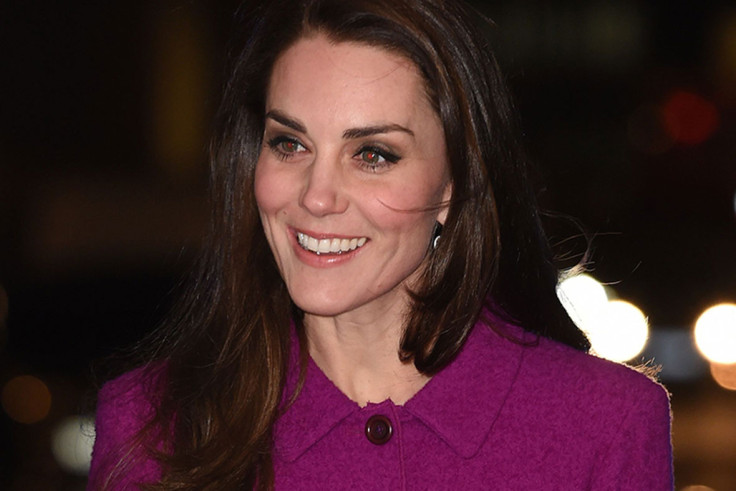 The Duchess of Cambridge is enjoying the peplum fashion trend after wearing two similar ensembles on the same day.
After making a public appearance alongside Prince William at the Mitchell Brook Primary School in Neasden, north London, on Monday (6 February) in her role as patron of the children's charity Place2Be, Kate Middleton made an outfit change for the evening.
The duchess was first spotted in a striking scarlet peplum skirt suit by Italian designer Luisa Spagnoli for the daytime visit – where she awarded a Kindness Cup to a special student and spoke about bringing up Prince George and Princess Charlotte. She looked as stylish as ever in the tailored two-piece which featured statement black buttons.
And the 35-year-old royal did not fail to impress on the sartorial front for her evening appearance at a Guild of Health Writers event at Chandos House in central London. The event also also encompassed The Anxiety Epidemic conference supported by the Heads Together initiative – a campaign which the duke and duchess alongside Prince Harry support.
Wearing a bold purple skirt suit by Oscar de la Renta, Kate wowed in another peplum-style outfit for the evening event, paired with her trusted black suede court shoes which she wore to her first engagement on Monday.
Addressing the event's attendees, her husband Prince William said: "My employer, I'm proud to say, knows about the value of normalising mental health, and treating it with the same respect that we confer on physical health. This should be the norm."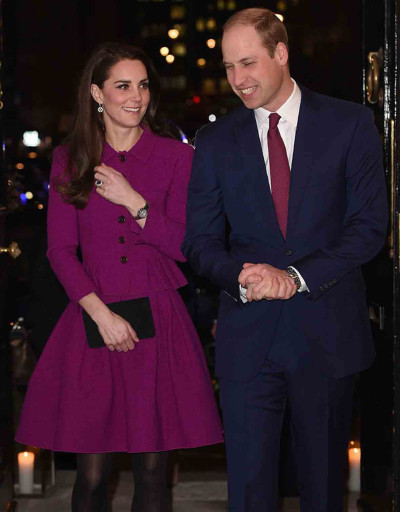 Fulfilling the legacy of his mother, Princess Diana – who was passionate about banishing the stigma surrounding mental health – the aim of the night was to change the national conversation on mental well-being to a positive one. It is also the charity of the year for the 2017 London Marathon.
The evening included other guest speakers such as Paul Farmer, chief executive of Mind, which is one of the eight Heads Together charity partners.
Prince William continued: "You may be wondering why Catherine, Harry and I got involved in this topic in the first place. Mental health is traditionally not a mainstream subject, after all.
"It was their openness about their mental health, their anxiety issues, their honesty about not coping, that made me realise that poor mental health was a major issue in our society, much greater than anyone cared to admit."
He added: "It was an issue that needed addressing if we were to attempt to solve many other problems that trouble us."
Earlier in the day at the school visit, Kate revealed she planned to teach her two children the importance of respect, honesty and kindness. She said that making future king Prince George and his younger sister Princess Charlotte aware of the value of these attributes was just as important to a child as academic or sporting success.
Speaking during a special school assembly, the duchess said: "My parents taught me about the importance of qualities like kindness, respect, and honesty, and I realise how central values like these have been to me throughout my life.
"That is why William and I want to teach our little children George and Charlotte just how important these things are as they grow up. In my view it is just as important as excelling at maths or sport.
"People often ask me why I am so interested in the mental health of children and young people.
"The answer is quite simple – it is because I think that every child should have the best possible start in life. When I was growing up I was very lucky. My family was the most important thing to me."
She continued: "They provided me with somewhere safe to grow and learn, and I know I was fortunate not to have been confronted by serious adversity at a young age."