After observing a stringent lifestyle during the holy month of Ramadan, Muslims around the world are preparing to celebrate Eid al-Fitr. Also known as the festival of breaking the fast, the day will mark the end of the month of sacrifice and self-purification and will herald the beginning of festivities.
Ramadan is considered one of the five pillars of Islam and during this period devotees spend their days offering prayers and doing charitable works. They also abstain from eating and drinking from sunrise to sunset. Eid begins after the crescent moon sighting that marks the end of the ninth month of the lunar Islamic calendar and the beginning of the 10th month Shawwal.
When is Eid 2016?
The day is expected to fall on 5 or 6 July this year depending on the new moon sighting. However, multiple Middle Eastern news outlets are claiming that the day will be confirmed only on 4 July.
Meanwhile, a website dedicated to the crescent moon has forecast that devotees may see the moon on 4 July. "For Eid moon sighting try on July 4, 2016, from South America and Polynesian islands by telescope," Moonsighting claims.
Eid al-Fitr celebrations began on 5 July in Russia, Turkey and a few other countries. See our gallery.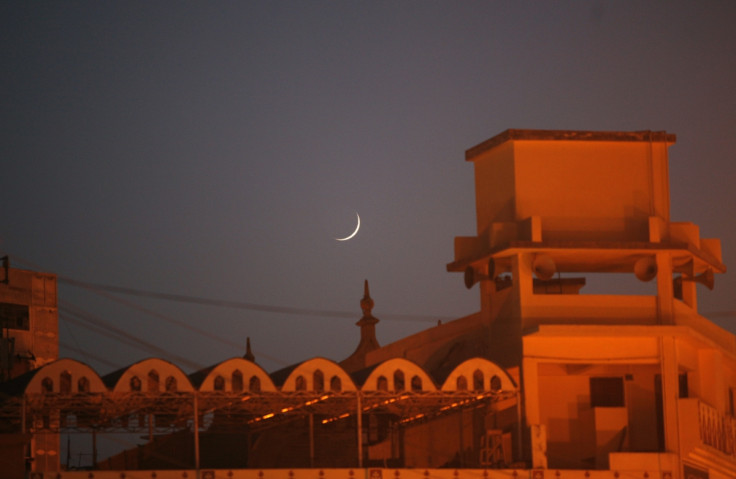 Another website Crescent Watch has stated that many parts of the world may see the moon with their naked eyes on 5 July. "Qualified Muslim astronomers and reliable visibility forecasts indicate that on Monday, 4 July, a naked-eye (unaided) sighting of the new crescent moon will be extremely improbable in all global regions, with the exception of the remote South Pacific where sightings are possible but highly unlikely," the website claims.
Eid in UK and US: According to an Al-Jazeera report, British Muslims will celebrate Eid on 6 July. The Fiqh Council of North America (FCNA) of the United States has issued a statement saying: "The first day of Ramadan will be Monday, 6 June, 2016 and Eid al-Fitr on Wednesday, 6 July, 2016."