It may not lend a drastic effect to the global LGBTQ movement, but Facebook decided to celebrate Pride Month (June) with the addition of a rainbow flag to its reactions options. The small gesture to express solidarity with the gay community seems to have earned a thumbs down though since it is intentionally not available everywhere.
The company decided not to offer the feature in certain countries and while it has not specified the reason behind the choice, most of the nations happen to be ones that are conservative or where homosexuality is still considered a crime.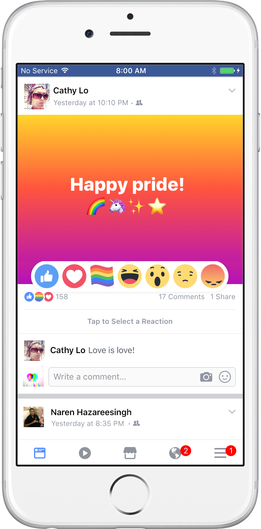 "People in major markets with Pride celebrations will be able to use a temporary rainbow reaction during Pride month," Facebook said in its promotion for the reaction. "You can also like this page to access the reaction, however, because this is a new experience we've been testing, the rainbow reaction will not be available everywhere."
These major markets do not include Egypt, Palestine, Bahrain, Lebanon, Singapore, Russia and the UAE among other countries. Users in these places have expressed criticism for Facebook's decision while it attempts to encourage inclusion and unity.
"It kind of feels like Facebook higher-ups are afraid of losing whatever percentage of their user base are hateful bigots so they hide it behind liking this page so that nobody who would get upset will accidentally see it," one user wrote on the LGBTQ Facebook page.
Facebook user Sadi Ebon Askav compared the flag reaction to that of the purple flower offered on Mother's Day. "Not everyone celebrates Halloween, but all the reactions were tweaked to reflect the whimsy of that holiday," he said according to Quartz. "What I'm seeing here is Facebook is trying to play both sides. 'Here's a rainbow reaction if you're not homophobic. If you are, no problem! It's opt in only! You'll never have to see it!' So you get all the praise and little to no pushback."
Along with the reaction, Facebook is also offering the options of a rainbow frame for profile pictures along with colourful, Pride-themed masks and frames for photos taken on Facebook Camera.