Tens of thousands of protesters marched in Buenos Aires, Argentina, on Friday (1 September) to voice their concerns over the safety of a missing indigenous rights activist and demand that the government do more to find him.
Santiago Maldonado, 28, was reportedly last seen during a demonstration for the rights of the Mapuche indigenous group in Patagonia, southern Argentina, on 1 August, media reports suggest.
He was protesting against the eviction of the group from lands in the province of Chubut owned by Italian clothing company, Benetton, Reuters reported. But the indigenous community is reported to have been claiming ancestral rights to the land.
The activist was reportedly arrested by border police for blocking a road during the demonstration, and has since not been seen.
According to Al Jazeera, Maldonado and other protesters were demanding the release of an imprisoned Mapuche leader, who is wanted by Chile.
Friday's rally is thought to be one of many demonstrations in Argentina as rights campaigners, union leaders and left-wing groups called on the local government to do more to find Maldonado.
They gathered at the Plaza de Mayo square in front of the presidential palace in Buenos Aires calling the activist's disappearance a "forced disappearance".
Maldonado's brother, Sergio, called for Argentina's Security Minister, Patricia Bullrich, to step down as he addressed the protesters on 1 September, saying, the government has failed to find the activist.
"One month after Santiago's forced disappearance, the state continues to deny it. The only people they have questioned are his friends and family," the BBC cited Sergio as saying.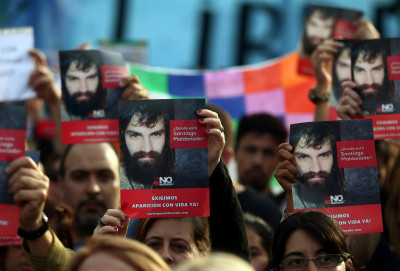 Meanwhile, a protest similar to Friday's rally turned violent in the Patagonian city of El Bolson when a group of hooded assailants pelted rocks and Molotov cocktails at security forces. The police had to resort to tear gas to subdue the angry crowd, according to a Reuters report.
Argentina's Clarin newspaper reported that 23 people were arrested after protesters clashed with police in Plaza de Mayo.
The shady past of Argentina is reported to have led many to believe that Maldonado might have been kidnapped or killed. About 30,000 people died or were forcibly disappeared during the country's 'Dirty War' between 1976 and 1983 under a military dictatorship.
Argentines also took to social media to ask "Where is Santiago Maldonado?"
'One Month Without Santiago' trended in the country's social media on Friday (1 September), with many sharing photos and videos that showed the scale of the rallies.
President Mauricio Macri's government has offered a reward of almost $30,000 (£23,000) to anyone who provides information on the activist's disappearance, the BBC reported.