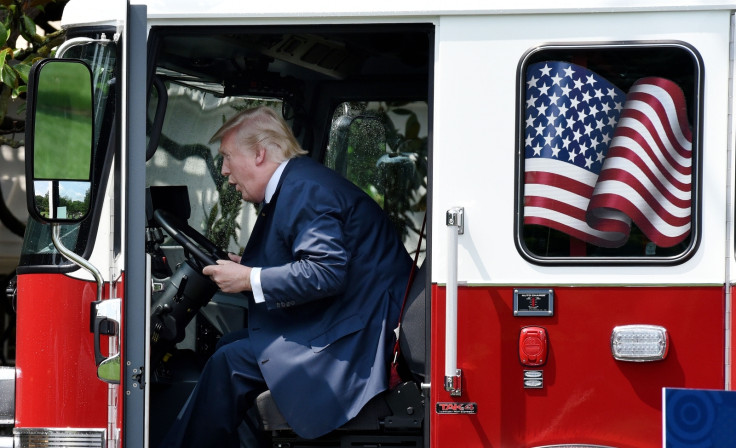 As the White House kicked off its "Made in America" week on Monday (17 July) to showcase American-made products, US President Donald Trump excitedly hopped behind the wheel of a firetruck outside the White House. The White House hosted a product showcase featuring vehicles and products manufactured from all 50 states in the US - from baseball bats and guitars to a yacht and forklift.
"I want to make a pledge to each and every one of you: No longer are we going to allow other countries to break the rules, steal our jobs and drain our wealth," Trump said during the event.
After climbing into the Wisconsin-built firetruck as Vice President Mike Pence stood by the door of the vehicle, Trump joked: "Where's the fire? Where's the fire? Put it out fast."
Naturally, photos of the president seated in a bright red fire truck quickly sent Twitter into overdrive.
Many joked that there was enough smoke at Trump's embattled White House as it continues to face intense scrutiny and investigations into alleged ties between his campaign and Russia.
"Hoping to put out all the fires in the White House," one Twitter user wrote. Another tweeted: Old man Trump is good at starting fires, not so good at putting them out.
"The irony... is too thick," one person said.
Others pointed out the irony that many of his own company's products and that of his daughter Ivanka Trump are made overseas.
"How much has to be wrong with you to declare 'Made in America' week when you know you and your family make almost nothing in America," one Twitter user wrote.
This isn't the first time Trump has sparked a meme-filled frenzy from behind the wheel on social media. In March, photos and videos of him excitedly pretending to drive an 18-wheeler truck during a trucking event at the White House immediately went viral.
"Toddler-in-chief gets to play with the really big red truck today. Isn't that cute?" one Twitter user wrote. Another mused: "Is that how they're keeping him in DC, and off twitter, by promising to let him play in big trucks on the White House lawn?"
"Trump sitting in that fire truck is the closest he'll ever come to protecting this nation", one person wrote.