This year's winter Olympics in Sochi have placed Russia's anti-homosexual legislation head-to-head against LGBT rights campaigners across the globe. In 2013, Russia was hit with criticism after it enacted a law banning the distribution of "propaganda of non-traditional sexual relations" to minors.
Leaders of foreign governments have condemned the law, while Stephen Fry, Salman Rushdie and various Nobel Laureates have joined the protest against Vladimir Putin's laws.
While Sochi has placed LGBT rights firmly in the public eye, it is only the beginning of the issue across the world.
IBTimes investigates which countries have anti-gay laws, as well as prejudice or high crime rates against LGBT communities.
Dominica
The Commonwealth of Dominica, an island nation in the Lesser Antilles region of the Caribbean Sea, harbours extensive anti-gay laws. Between 1995 and 2000, around 35 people were arrested by local authorities and charged with buggery. All of the accused were fined, given prison sentences and in some cases, sent to psychiatric hospitals for treatment.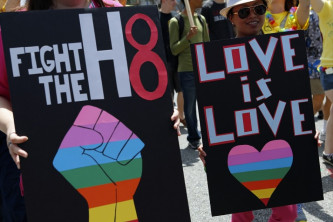 The laws apply to men and women equally and in 2001, 15 women were arrested for engaged in same-sex sexual acts. Under the Sexual Offences Act 1998, an adult accused of buggery, a legal term equivalent to sodomy, faces up to ten years in prison. If the court sees fit, they may be subjected to psychiatric treatment in a hospital.
The laws also extend to foreigners. In 2012, two Californian men were charged with buggery as a witness claimed to see the couple having sex on a cruise ship passing the country.
Uganda
This week, the Ugandan president Yoweri Museveni will decide in the coming days whether or not to sign an anti-homosexuality bill. If the legislation is passed, some homosexual acts could be penalised with life imprisonment.
The bill was commonly referred to as the "Kill the Gays Bill", due to its originally proposed death penalty, that was dropped in favour of a life sentence. While Museveni rejected an anti-gay bill last month, he declared that homosexuality was still an "abnormality". He has said he can only give his assent if scientists can prove that homosexuals are made, not born.
Activists have argued that the bill could lead to a HIV setback, while Frank Mugisha, the chief executive of the country's main gay rights group, could face life imprisonment. Sexual Minorities Uganda is a semi-clandestine network that is frequently forced to relocate for safety fears. In 2011, David Kato, a member and colleague of Mugisha, was bludgeoned to death.
Italy
LGBT people's right are not protected by any law in Italy, nor can homosexual couples marry or have their partnership recognised by the state. Although same-sex sexual activity is legal, joint adoption by same-sex couples, IVF for lesbians and commercial surrogacy for gay male couples is not allowed.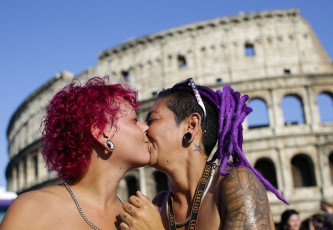 Homophobia is still rife in the country. In September 2013, a boycott was held against Guido Barilla, the president of the Barilla food company, after he made slanderous comments against homosexuality. He said he would never do a commercial featuring a homosexual family, because he didn't "agree with them".
Anti-homophobia laws only protect against anti-gay speech within political, cultural and religious groups. During the Barilla debate, however, an MP from the Lega Party provoked two openly gay politicians with a fennel bulb - as the word finocchio is Italian slang for "f****t*.
Yemen
Yemen's laws against gay men and lesbians are described in intimate detail. In accordance with the country's Sharia legal system, LGBT people suffer discriminatory, legal and social problems. Punishments are varied, but can include flogging to death for consensual sexual acts between adults of the same sex.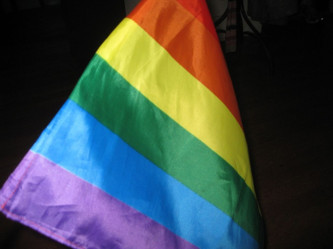 Gay and lesbian websites are blocked by the government and according to officials, there is no homosexuality in Yemen. The country's laws describing the offence are detailed.
One states: "Homosexuality between men is defined as penetration into the anus. Unmarried men shall be punished with 100 lashes of the whip or a maximum of one year of imprisonment, married men with death by stoning."
Another reads: "Homosexuality between women is defined as sexual stimulation by rubbing. The penalty for premeditated commission shall be up to three years of imprisonment; where the offense has been committed under duress, the perpetrator shall be punishable with up to seven years detention."
Cameroon
In July 2013, Eric Ohena Lemembe was found at his home in Yaounde, the capital of Cameroon. He had been tortured, with his neck and feet broken and his body burned with an iron. As an executive director of Camfaidsm he was one of the country's most prominent and outspoken LGBT rights activists.
Officially, homosexuality is illegal and can be punished with up to five years imprisonment and a fine. However, violence against LGBT people in the country is common and criminal acts against gay people are rarely investigated.
A report by Amnesty International in 2013 revealed that even those who supported LGBT rights, but were not necessarily gay, were being harassed. In 2006, a number of the tabloids published the names of at least 50 very prominent people they claimed were homosexuals in Cameroon.