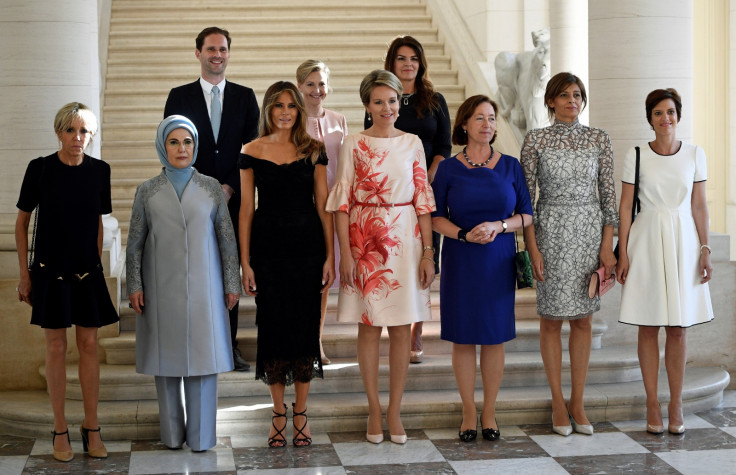 The White House has triggered a fierce row online after omitting the name of the husband of Luxembourg's gay Prime Minister Xavier Bettel, from the caption to a photo featuring the spouses of Nato world leaders attending this week's summit. The official White House Facebook page posted the photograph taken by Andrea Hanks on Saturday with a description that included the names of the nine other political spouses, except for First Gentleman of Luxembourg Gauthier Destenay.
Destenay is a Belgian architect who married Bettel in 2015 after Luxembourg legalized same-sex marriage, making Bettel the first openly gay European Union government leader to marry his partner.
The photo caption was later edited nine hours. The White House did not explain why the original post failed to include the first gentleman.
Destenay's presence in photographs as the only First Gentleman among the Nato spouses during the summit captivated the Internet this week.
However, many social media users who noticed the embarrassing photo caption gaffe on Facebook immediately slammed the White House saying his exclusion was disrespectful, ignorant and homophobic. They also pointed out other errors in the description including the date and the inclusion of Melania Trump's name twice.
"The omission of the the First Gentleman of Luxembourg name is blatantly disrespectful and just goes to show the level of idiotacy of this White House staff", one Facebook commenter wrote.
Another wrote: "Wow. No mention of the Luxembourg spouse? He still exists even if you try to ignore the fact he is a homosexual you dimwit."
"So wonderful to see a first husband! So sad the White House is either too ignorant or too petty to actually name him. #stayclassy" one user wrote.
The Gay and Lesbian Alliance Against Defamation (GLAAD) also commented saying: "What about Luxembourg's openly gay First Husband?"