Back in 2008, just months after he entered the White House and years before social media became the juggernaut it is today, President Obama was the world's most-followed person on Twitter, with just 60,000 followers. He was closely followed by Stephen Fry, at a time when verified accounts did not exist and 'manual retweeting' was the norm.
Now, the official POTUS (President of the United States) account has 13.6 million followers, Barack Obama has some 80.8 million and Donald Trump, who spent much of his presidential campaign on the social network, has 20.6 million.
On Facebook, POTUS has 3.8 million likes, Obama has 52.8 million and Trump has 17.8 million.
But what happens to these accounts when a new president is sworn into office? Are they wiped, forcing the newcomer to build a social media presence from scratch? Are they passed along, or are they frozen in time? The answer, explains the White House, is somewhere in-between.
As Trump took the oath on 20 January he also assumed control of the @Potus Twitter account. Trump inherited its millions of followers, but all content posted by Obama and his administration over the past eight years is to be wiped, reset to zero.
However, a record of these tweets will be kept on a newly created account called @Potus44 and maintained by the US National Archives (Nara). Additionally, the White House explains: "President Obama's tweets [from the account created in his own name] will also be archived at Nara, where they will be preserved and accessible in the same manner as all other Presidential records."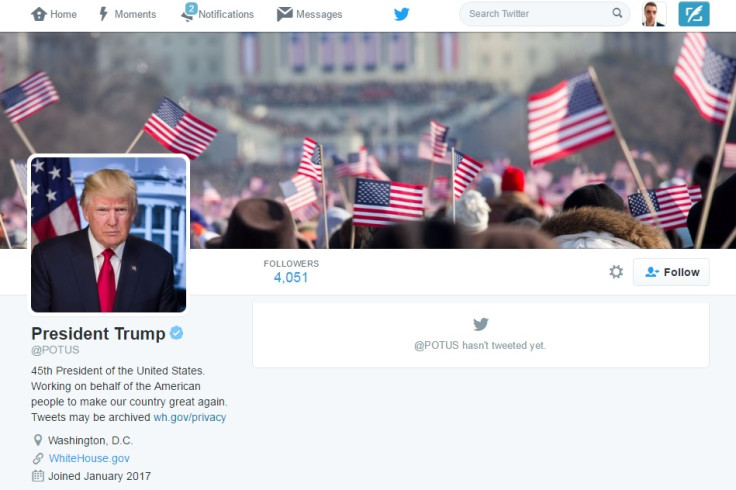 This will also be the case for other presidential Twitter accounts, including @WhiteHouse, @Flotus (First Lady of the United States), @PressSec and @VP.
A statement by the White House continues: "On Instagram and Facebook, the incoming White House will gain access the White House username, URL, and the retail the followers, but will start with no content on the timeline."
As with Twitter, content posted by the Obama administration on Instagram and Facebook will be moved over to instagram.com/ObamaWhiteHouse and facebook.com/ObamaWhiteHouse. All other accounts will be given the same '44' suffix as the Twitter handles.
The White House says it will "follow a similar approach with other official accounts on platforms including Medium, Tumblr and YouTube." As for the White House website: "President Obama's WhiteHouse.gov will be preserved on the web and frozen after January 20th and made available at ObamaWhiteHouse.gov. The incoming White House will receive the WhiteHouse.gov domain and all content that has been posted to WhiteHouse.gov during the Obama administration will be archived with Nara."