White British children are being overtaken at school by pupils of other ethnicities because their parents don't offer them enough support, a report has revealed. Immigrant families are said to do better at things like supervising homework and bedtime, eating together as a family and attending parents' evenings.
The research, published by the CentreForum think tank on Monday (4 April), found that during the early years of school white British pupils are among the highest achievers. But by the age of 16 they fall to 13th in the performance ranking table – just below average – behind children of Chinese, Indian and black African heritage.
Meanwhile, pupils for whom English is a second language make significant strides during their school careers. Pupils of a Chinese ethnic background achieve, on average, two grades higher in every subject at GCSE compared with white British pupils.
The report's authors suggested the traditional idea that high aspiration parenting was the most important aspect of making sure their children do well at school was misguided.
Jo Hutchinson, associate director for education at CentreForum, told the Independent: "What is bigger than aspiration is parental engagement. We are talking about things such as parents attending parents' evenings at school, talking to their children about subject options, supervising homework, ensuring that the family eats together and has regular bedtimes.
"Those sorts of things appear to be more associated with this effect than pure aspirations. It's not just aspirations but behaviours that support the aspirations.
"Most parents actually want their children to continue in education and be successful in education. What sometimes differs is the extent to which they have the knowledge and the tools and resources to actually help them make that aspiration real."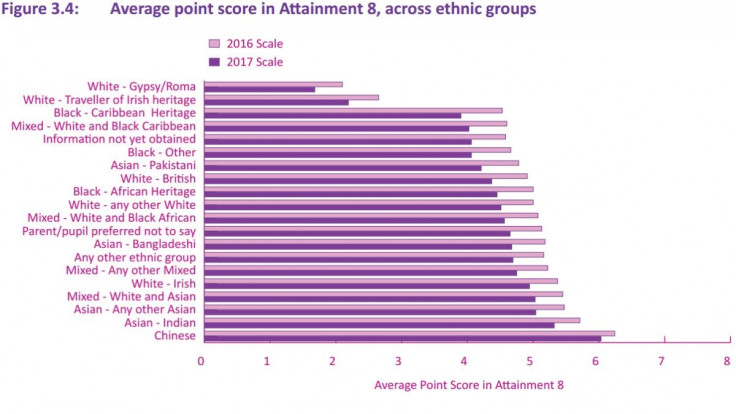 Researchers found while overall attainment in England's schools is improving, almost two thirds of secondary and 40% of primary school pupils languish in the world tables. Changes to the GCSE grading system, due to come into place in September, are likely to see the country fall even further behind global leaders such as Canada and Finland.
Shockingly, only a third of pupils are estimated to achieve a good grade in maths and English under the new system, down from almost 60%.
David Laws, executive chairman of CentreForum and former Liberal Democrat schools minister, said: "Today's report demonstrates that, while we are seeing some signs of improvement, there is still a long way to go before the education system performs at a world-class standard. This is especially the case outside of London and for disadvantaged pupils."
The report found the gap between disadvantaged pupils and their peers remains significant, with four out of five disadvantaged pupils failing to achieve a world-class standard at secondary school. More than half at primary schools don't reach the global benchmark.
A north-south divide is also hampering progress at secondary school, researchers said, with 44% of pupils reaching a world-class benchmark in London, compared with only a third in the East Midlands and Yorkshire and the Humber.
Natalie Perera, executive director and head of research at CentreForum, said: "While the gap between the most disadvantaged pupils and the rest is generally closing, we still find that, by the end of secondary school, disadvantaged pupils are, on average, almost two academic years behind their peers.
"Over the coming year, CentreForum will be expanding its research into the deep-rooted and complex challenges that our education system must address if it is going to perform at a world-class benchmark."