First, there was Rihanna and now Bella Thorne is the 'Good Girl Gone Bad' after she was spotted partying with Kourtney Kardashian's ex Scott Disick at LA's hotting clubs before jetting to Cannes with the reality star.
But how much do were know about the former Disney Darling who recently forced to deny featuring in a leaked sex tape?
Who is Bella Thorne?
Bella Thorne is a 19-year-old actress best known for her role as CeCe Jones in the Disney Channel show Shake It Up. The show co-starred actress and singer Zendaya. She is currently the lead in series Famous in Love where she plays Paige Townsen.
Thorne was born on October 8, 1997 in Florida. She is of Cuban, Italian and Irish heritage. Her three siblings sisters Kaili and Danielle and brother Remy are all models and actors. Danielle, whom Thorne is closest to, is also a DJ. Her mother Tamara is a horror writer. Her father Delancey Reinaldo passed away in a motorbike accident in 2007.
In a 2015 interview with Seventeen magazine, Thorne revealed how her family suffered a financial crisis after her father's death. She said: "I don't think anybody really knew — it wasn't a very obvious thing. I've never really talked about it. I wasn't hiding it, and it wasn't like, 'Oh, I'm embarrassed because we don't have money.' It was, 'Oh, we don't have money, so we're going to work that much harder.' It was scary, though, because you really want those jobs. It's a different hunger when you want your family to eat."
Thorne shot her first modelling assignment for Parents magazine at the age of six-weeks-old. Her Brother Remy also started his modelling career at just eight months old.
She has named Natalie Portman and Emma Watson as actors whose careers she would most like to emulate.
Is Bella Thorne dating Scott Disick?
Even as the pair were pictured holding hands and cosying up to each other several times, there were no confirmations from either Thorne or Disick, 34 about their relationship status.
Thorne later said: "Scott is really nice, sweet, charming. I don't drink, and he really drinks a lot. It just ended up...I just wasn't down. I was like, 'I gotta leave.' We were [in Cannes] a day and a half before I was like, 'I'm booking my flight and leaving.' I love to go out and have fun, I love to f--king dance, but I just don't party hardcore like that and it was way too much for me. I was like, 'Woah, this is not the way I live my life, bruh."
Who is Bella Thorne's real boyfriend?
After the whirlwind romance with Disick, Thorne looks to have finally settled into a relationship with 26-year-old hip hop star Blackbear, whose real name is Matthew Tyler Musto. Lately her Instagram account has been flooding with intimate pictures of the two.
Blackbear, who also grew up in Florida like Thorne, came into prominence when he co-wrote Justin Bieber's hit song Boyfriend from his third studio album Believe in 2012.
Who has Bella Thorne dated in the past?
Thorne was in a year long relationship with 25-year-old English actor Gregg Sulkin. After Thorne posted a photo of them together on Sulkin's birthday this year, there were reports that the couple were back together. But the Shake It Up actor denied these rumours saying they're just friends.
Thorne was linked with Jordan Clarkson who plays for Los Angeles Lakers, when they were seen having a good time at Six Flags theme park in California.
Thorne dated Teen Wolf actor Tyler Posey for a few months before breaking up. She was thought to be cheating on Posey when she was photographed with singer Charlier Puth at a beach in December 2016. Both Thorne and Puth have repudiated this. The One Call Away singer went on Twitter to state: "I can't believe what I'm reading. No one should have their heart messed with like this, and I'm not going to be in the middle of it."
Which films and TV shows has Bella Thorne been in?
Although an uncredited role, Thorne was first seen on screen in the 2003 comedy film Stuck On You starring Matt Damon.
Before landing her first big TV role in the second season of Dirty Sexy Money, she made cameo appearances in The O.C and Entourage.
Thorne came to limelight with 2008 NBC drama My Own Worst Enemy which had Christian Slater and Taylor Lautner in the lead roles. Although the show came to an end after only nine episodes, it did help Thorne garner public attention. For her role as Ruthy Spivey, she even won the Young Artist's Award that year.
The teenage actor's breakthrough role was in Shake It Up where she played CeCe Jones from 2010 to 2013, a tomboy and an ambitious dancer with dyslexia. Thorne and Zendaya, who played CeCe's best friend Rocky Blue have remained friends since and were last seen together at the Women's March in Washington D.C. in January 2017.
Thorne played Adam Sandler's daughter in 2014 comedy film Blended. The same years she was seen in Alexander and the Terrible, Horrible, No Good, Very Bad Day alongside Steve Carell and Jennifer Garner.
In 2015, Thorne appeared as Madison Morgan in teen comedy The Duff and played singer Ashley in Alvin and the Chipmunks: The Road Chip
In Famous In Love, Thorne plays a college student whose life changes in an instant when she is cast in the movie adaptation of a novel.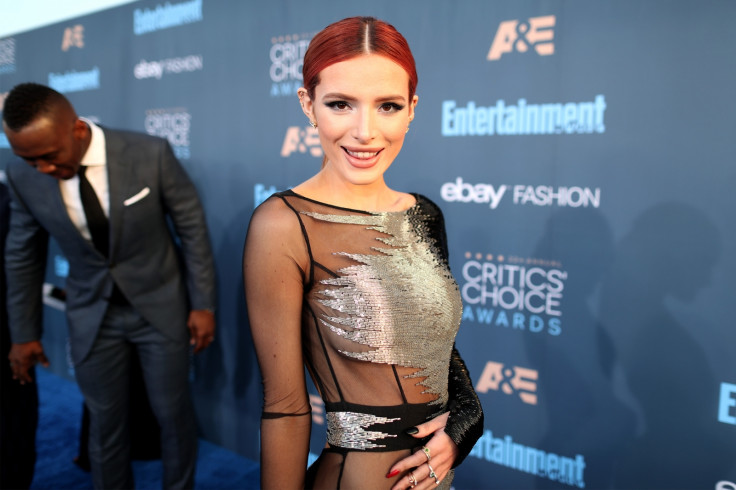 What will Bella Thorne next be seen in?
Thorne has a few films in the pipeline such as the Japanese remake of Midnight Sun opposite Patrick Schwarzenegger, Arnold's son. She will also be seen with her idol Natalie Portman in The Death and Life of John F. Donovan. The film also stars Kit Harrington and Jessica Chastain.
Who would Bella Thorne most like to work with?
Thorne told Complex magazine that she would love to work in a film by Quentin Tarantino. "I've been in love with Quentin Tarantino since like I was 8. I think I adapted a foot fetish from him because he has one in his movies and there's all these beautiful sexy shots of girls' feet [in his films] and I'm just like, wow."
Is Bella Thorne also a singer?
Thorne's singing career didn't take off quite well as she expected. In March 2013, she signed a record deal with Hollywood Records and announced a debut album with 11 songs. However, she later admitted that the album had been shelved.
She released an EP in November 2014 titled Jersey. Call It Whatever, the single from the EP eventually broke through the top ten in the Billboard Hot Dance Club Songs.
What is Bella Thorne's sexuality?
On August 2016, Thorne came out as bisexual. She used Twitter to open up about her sexuality. A fan had posed a question asking: "Are you bisexual? @BellaThorne" to which the actress simply answered "Yes". She has 6.7 million followers on Twitter and 16 million on Instagram.
Ariel Winter, who plays Alex Dunphy in the comedy series Modern Family, retweeted the conversation. Expressing her gratitude for all the support, Thorne tweeted: "Aww thank you for all the accepting tweets from everyone. I love you guys ❤❤❤ #pride."
Soon after this revelation, news began circulating that Thorne was dating her brother's ex-girlfriend Bella Pendergast. Snapchat photos of the pair kissing and mushy messages for each other on their social media platforms, including one where Throne called Pendergast her soulmate, further fuelled the rumour.