Having made the successful transition from Disney star to Hollywood bad girl in the last year, Bella Thorne continues to show off her image overhaul on Instagram.
The 19-year-old actress – who currently stars as Paige in Famous in Love – wowed her followers with her latest social media snap in a provocative all-white outfit.
Showcasing a good amount of side-boob in the white bralet, the eye was drawn to Thorne's behind as her white trousers featured large cut outs just below the bum, revealing a lot of thigh.
The teen rebel amped up the glamour factor with a pair of white towering stilettos as she rocked a curly hairstyle, letting her bright pink tresses stand out against the neutral outfit.
Fans were quick to express their opinions on the outfit, with one person commenting: "You slayed in that outfit the only one i thought wasnt to much or not enougILY❤"
Another said: "Beautiful girl, not so fond of the outfit. #sorry" as a third added: "You ain't Rihanna okay"
Someone else chimed in with: "What the actual f**k are you wearing?"
Her latest post comes as she was pictured in a group shot with ex-fling Scott Disick on Sunday evening while at the Teen Choice Awards in Los Angeles. It comes as a surprise as the former couple have not been seen with each other since mid-July in New York.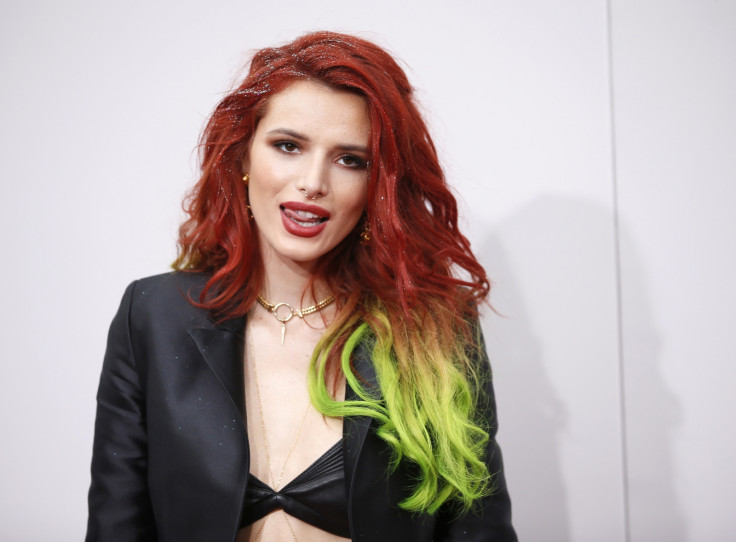 To complicate matters, the picture also included Throne's new love interest, Blackbear, whose real name is Matthew Tyler Musto.
The Florida-born star is breaking ties with her Disney girl image thanks to edgy looks these days, and came out as bisexual on Twitter in 2016.
She is often subject to much criticism for her revealing choice of clothing on social media and has most recently denied featuring in a leaked sex tape.