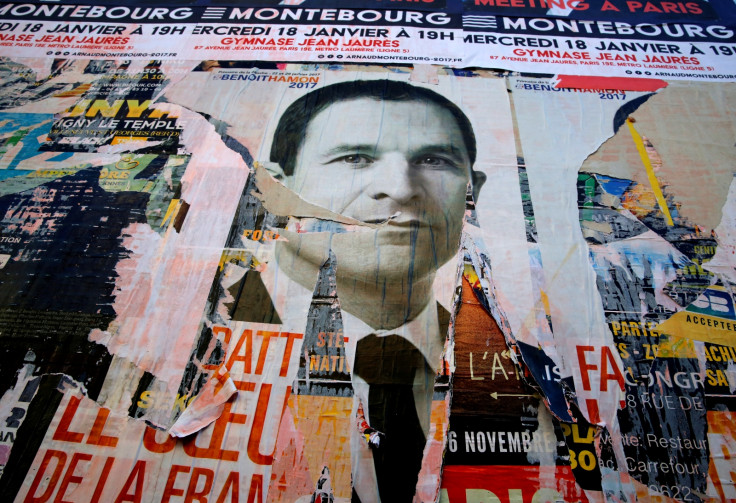 A radical left-winger, who has been dubbed France's Jeremy Corbyn, could become the Socialist Party's candidate in the French presidential elections this spring. Benoît Hamon, a former education minister, has caused a stir with his bold policies including a universal basic income for every French adult and the legalisation of cannabis.
Polls suggest that Hamon is increasingly likely to win the left-wing primaries kicking off this Sunday (22 January), in a meteoric rise for a previously little-known candidate. This would pitch him against conservative François Fillon, far-right leader Marine Le Pen and independent Emmanuel Macron in the presidential race.
Hamon was declared the winner of the final televised Socialist primary debate on Thursday (19 January). His key competitors are Manuel Valls, former prime minister under President François Hollande, and Arnaud Montebourg, a former industry minister and fellow leftist rebel.
However, Hollande is leaving his party in such turmoil that any Socialist candidate is unlikely to be elected the next head of state in May.
Who is Benoît Hamon?
The fresh-faced 49-year-old is representing the far left of the Socialist Party during the primaries, steering sharply away from Hollande and Valls' social-liberal politics.
At the centre of Hamon's programme is "le revenue universel" – a welfare payment of around €750 a month for every French citizen aged 18 and over, regardless of employment status. Costing an estimated €400bn (£346bn) a year, the plan would be phased in over three years and funded through higher wealth taxes.
"The universal income creates work," Hamon said in the final primary debate. "It allows employees to reduce their workdays, and it can further contract and eradicate poverty."
His opponents attacked the proposal in the debate, with Valls warning against "a left that makes boundless promises." Centrists in the party fear that under Hamon the Socialists would become unelectable for mainstream voters, echoing sentiments in Corbyn's Labour.
However, Hamon has grassroots support for his plan to levy a tax on "wealth created by robots" to fund the social security system.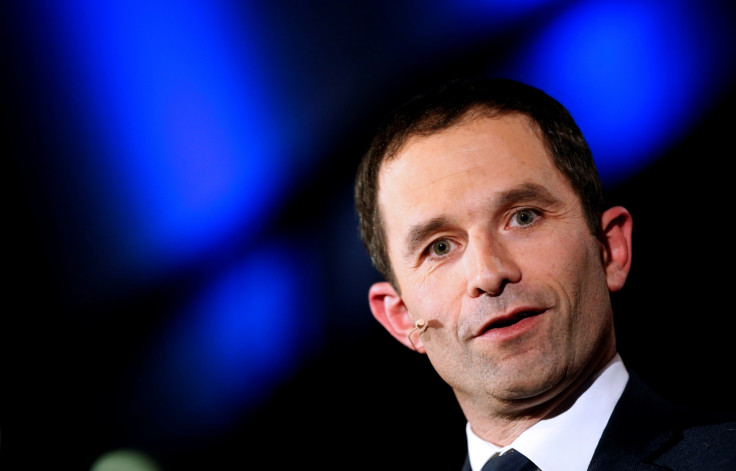 The Socialist candidate also openly supports the legalisation of cannabis, saying that "it would be better to use the €535m we spend inefficiently on prohibition on treating addiction."
Hamon, who entered politics as a student, was a junior minister in the finance ministry in Hollande's government from 2012 to 2014, responsible for consumer affairs and the social economy.
He was promoted to education minister in 2014, but after a short stint of 147 days, he resigned in protest at the government's shift to what he saw as a too liberal economic policy.
Since then, he has been a leading rebel backbencher, reminiscent of Corbyn during New Labour times.
Does he have a chance?
Hamon has a real chance of becoming the Socialist-backed presidential candidate in the left-wing primaries taking place in two rounds on 22 January and 29 January.
A month ago, Hamon was polling at just 10 per cent in the first round. But a BVA poll this week saw him surge to defeat Montebourg by a small margin, and then win the Socialist nomination by beating former favourite Valls in the second-round run-off by 52 per cent to 48 per cent.
Hamon was also seen as the winner of Thursday's primary debate, according to a poll by Elabe, with 29 per cent of people considering him the most convincing of the seven left-wing candidates.
A triumph for Hamon would mirror Fillon's victory in the centre-right primaries in November – an outsider gaining unexpected last-minute support.
However, few observers predict a Socialist candidate will get far in France's two-round presidential elections in April and May. After five years under Hollande, the ruling party is deeply unpopular and fractured, despite Hollande declining to run for a second term in December.
The Socialists are currently fifth place in the polls, trailing independent candidate Emmanuel Macron and hard-leftist Jean-Luc Mélenchon.
Even if Hamon wins the Socialist nomination, he is unlikely to qualify for the presidential run-off on 7 May, in which polls predict Republican candidate François Fillon will face off National Front leader Marine Le Pen.