Brigitte Trogneux is on course to become First Lady of France and walk hand in hand with her husband Emmanuel Macron into the Élysée Palace. Victory over Marine Le Pen would mark the high point of their marriage and Emmanuel's political career, which he has credited to his wife.
"If I'm elected, no, sorry, when we are elected, she will be there, with a role, and a place," he told supporters in Paris. "I owe her a lot, she helped make me who I am."
Win or lose in the first round of voting on Sunday – the polls put him ahead of Le Pen – it has been a remarkable journey and romance by the first couple, whose relationship has blossomed after Brigitte first met Emmanuel 25 years earlier – as his drama teacher when he was 15.
While his Republican presidential rival François Fillon has battled scandal after scandal over his employment of his wife, the Macrons have batted away probes into their love life, which has raised eyebrows across the world.
The pair met in 1992 when Brigitte, who is nearly 24 years older than her husband, was teaching drama at a private school in the town of Amiens.
"She used to recite his work all the time. She was totally captivated by his writing skills," a former classmate told Le Parisien newspaper. Brigitte would have been 39 at the time, the age her husband is now.
Emmanuel moved to Paris, reportedly at the behest of his parents but it is also been claimed he did so after Brigitte left, but stayed in touch through letters. It was soon after he moved to the French capital that he proclaimed he would marry her: "I will come back and I will marry you," he told her. Emmanuel was 17.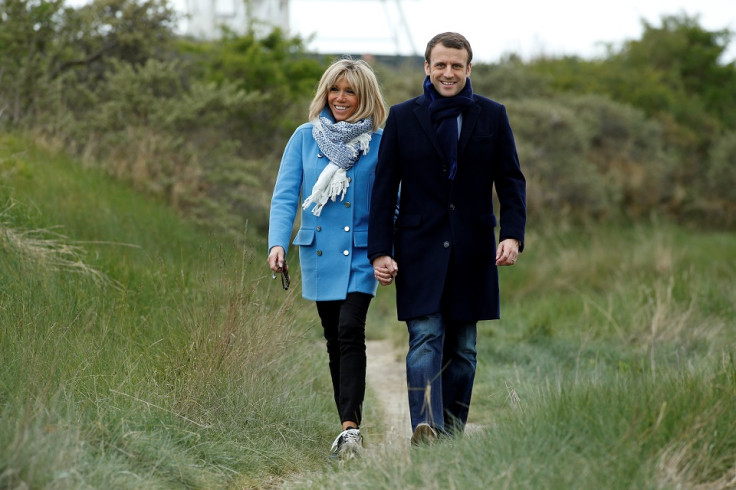 But it wasn't to be plain sailing for the couple and Brigitte went on the marry another man and have three children before eventually divorcing her husband and rekindling her relationship with Emmanuel.
They were married in 2007 with video footage from the day showing an emotional Emmanuel thanking guests for "accepting" the couple and supporting their relationship.
"That is to say, maybe something not quite common, a couple not quite normal – not that I like this adjective very much – but a couple that exists," the besotted groom said.
The power couple have been at each other's side since with Brigitte acting as an unofficial advisor to her husband during the campaign. Cameras caught her saying, "I am the president of his fan club," when aides questioned her attending high-level meetings.
Emmanuel's candidacy inevitably attracted the glare of the French media and the couple has deflected rumours about their relationship including a recent one of a gay affair outside his marriage to Brigitte. He laughed off the claims saying it must have been his "hologram".
As far as presidential scandals go, the couple would have to go some way to match incumbent François Hollande. The socialist leader was in a relationship for more than 30 years with fellow socialist Ségolène Royal, with whom he had four children.
The couple split soon after Nicolas Sarkozy defeated her to win the presidency in 2007, before he became romantically linked with journalist Valérie Trierweiler. They then separated in 2014 after Hollande was rumoured to have had an affair with the actress Julie Gayet.