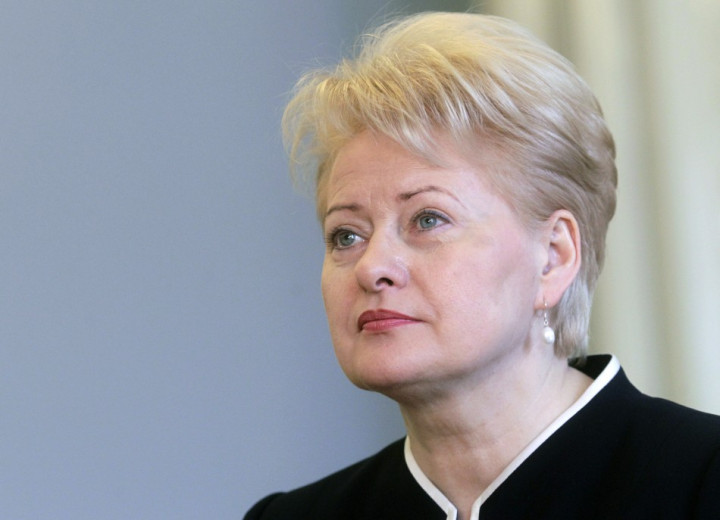 Lithuania's President Dalia Grybauskaitė has been drawing the attention of many after she declared she would "take up arms" herself if Russia attacked her country.
Grybauskaitė, 58, made the comment during an interview in which she compared Russia's Vladimir Putin to some dictators of the past.
"[He] uses nationality as a pretext to conquer territory with military means. That's exactly what Stalin and Hitler did," she told German news magazine Focus.
Other than her strong commitment to defend her country against the eventuality of a Russian invasion, what else do we know about Grybauskaitė, dubbed by many as "Lithuania's iron lady"?
Born in 1956 in a working-class family in Vilnius, she studied political economy at the State University in Saint Petersburg. After graduating, she went back to Lithuania, where she started teaching political economy and global finance.
In 1993 she was appointed director of the Economic Relations Department at the Ministry of Foreign Affairs.
She served as vice foreign minister from 2000 to 2001 and finance minister from 2001 to 2004.
In November 2005, Grybauskaitė was elected Commissioner of the Year for her efforts to reform the EU budget.
She became president of Lithuania in 2009 and was re-elected in 2014.
Relations with Russia
In 2013, Grybauskaitė boycotted the Sochi Winter Olympics due to human rights violations by the Russian government, which had launched a crackdown against homosexuals in the country ahead of the games.
Commenting on the ongoing Ukraine-Russia conflict, she said that Putin is "at war against Ukraine and that is against a country which wants to be part of Europe. Russia is practically in war against Europe."
During a meeting with Obama, she said: "Today what's happening on Ukraine's soil, that open aggression from the Russian side against sovereign country, means that the recent attack, not only against Ukraine, it is an attack against the peace and borders of Europe after Second World War."
Her tough stance against the Russian invasion of Ukraine earned her the nickname "Iron lady".
Personal life
Grybauskaitė is not married and has no children. She has no immediate family as both her parents died and she has no siblings.
During the election campaign, she denied claims she was a lesbian.
One of the things Grybauskaitė likes doing in her free time is to practise karate; her dedication to the discipline clinched her the black belt. She is fluent in four languages; Lithuanian, English, Russian and Polish.
After she became president, she defined her life as "only work, work, work".