Disgraced former Conservative MP Harvey Proctor known for his spanking history with rent boys has hit the headlines again 20 years later amid allegations he was involved in historical child sex abuse at Westminster.
The 68-year-old denied publicly today he was involved with a "rent-boy ring with cabinet ministers" following a police raid at his home in Leicestershire.
"I have never attended sex parties at Dolphin Square or anywhere else. I have not been part of any rent boy ring with cabinet ministers, other MPs or the military," he told BBC Radio 4's Today Programme.
"I conducted my private life in a discreet manner, it wasn't I who outed myself, it was the press who did an assortment of things to out me."
His private life as a 'spanking MP' was exposed by The People newspaper during the 1980s, which ultimately ended his political career. He had been MP for Basildon and Billericay from 1979 to 1987.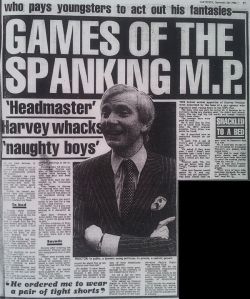 Sordid revelations about how the Pontefract born MP acted out depraved schoolboy fantasies with male prostitutes at his flat dominated national headlines. Details, for example, emerged of bizarre sex games involving him beating boys with a cane, slipper, as well as his hand.
He later resigned from his post after he admitted to four acts of gross indecency with two rent boys under the age of 21 in 1986 (the age of homosexual consent was 21 at this time). The three counts involved a 17-year-old between 1 June and 31 August. The fourth happened on 11 April involving a 19-year-old. Proctor was fined £1,450 and was later succeeded as MP by Teresa Gorman at the next general election.
From then, he went into the shirt making business, named Proctor's which attracted huge investment from his Conservative peers including John Major who was a fan of his shirts.
But the business went bankrupt, owing £150,000. Proctor claims its demise was not helped by the press predicting its collapse "every six months".
The whizzkid MP was also known as an extreme right winger, who courted radical views on education, race relations and in particular on immigration. He was a member of the right wing Monday Club's immigration race committee.
After he was elected as MP for Basildon in 1979 he called for an immediate end to immigration from the New Commonwealth and Pakistan. He also suggested the Commission for Racial Equality be disbanded and that 50,000 immigrants should be repatriated each year.
Basildon council later passed a motion of no confidence in him because of his radical views.
Born to a master baker, Proctor himself went to Scarborough High School for Boys and then later the University of York where he read History.
He had joined the Young Conservatives when he was 14 in 1961 and was chairman of York University Conservative Association in 1967 to 1969. He later worked as a researcher for anti-common market Conservative MPs before fighting for Hackney South and Shoreditch seat during the 1974 general election.
Since 2003 Proctor has been working as a private secretary to the Duke and Duchess of Rutland at Belvoir Castle, Grantham, Leicestershire.
Last year a source close to the Westminster child sex abuse inquiry told the Sunday Mirror that 'Proctor's name has repeatedly been mentioned by at least two alleged victims' and that he was "going to be of key interest".