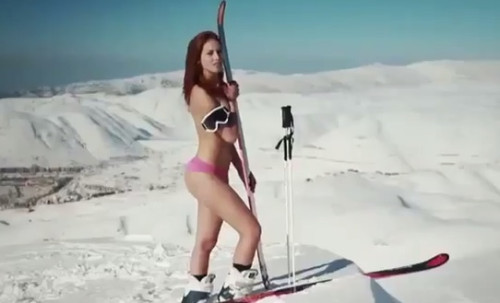 Jackie Chamoun, the Lebanese skier taking part in the 2014 Sochi Olympics, has gone from a relative unknown to one of the most talked-about athletes at the Games in just a few days.
A topless calendar in which she appeared three years ago with her former teammate Chirine Njiem remerged online and on Lebanese television.
The photos, which were shot by six-time Mexican Olympic skier Hubertus von Hohenlohe on the Faraya ski slopes outside Beirut, caused huge amounts of controversy in Chamoun's home country.
Lebanon's Olympic Committee were even forced to confirm she will not be kicked out of the Games as her actions did not take place during or in preparation for the Olympics.
Chamoun later apologised for the photographs but said she now wishes the attention she is currently receiving gets switched to her performances in the Games.
She said: "The photos of the photoshoot are not like the actual images that are now circulating on the net. The video and photos that you are now seeing are part of the making off, the preparation; it wasn't supposed to go public.
"Anyways, I want to apologise to all of you, I know that Lebanon is a conservative country and this is not the image that reflects our culture. I fully understand if you want to criticise this."
Who is Jackie Chamon?
The 2014 Sochi Games will be the second Olympics in which Chamoun has taken part, having competed in the Vancouver 2010 Games.
She is hoping to improve on her performance from the previous Games, where she finished 54th in the slalom.
This year, she will be competing in the ladies slalom ski competition on 21 February, three days after she takes part in the ladies giant slalom.
She also has the honour of being the only female to represent Lebanon at this year's Olympic Games.
She attributes her skiing ability to her father, who was an avid skier and used to take her to the slopes in Faraya every weekend in the winter.
She said she began skiing on the Faraya slopes from the age of three and still trains there for competitions to this day, although she believes training in Lebanon has hindered her chances of success on the world stage.
She said: "When we go outside Lebanon, it's very hard for us to ski on long, long slopes. They are really steep and icy and we are not used to these conditions."
She added one of her main goals at the Games would be to increase the popularity of skiing in the Arab country. She said: "When you see our past results, it's not really encouraging.
"In the future I would like to have plans for sports in Lebanon and for skiing and to try to put in place facilities to encourage young people and to have the funds to influence authorities to invest themselves in the sport. We can do a lot to improve the level."