Who is Jane Pountney? Katie Price's Best Friend Accused of Affair with Kieran Hayley
For years fans have watched Katie Price's turbulent love life play out on screen.
So it came as no surprise that when the pregnant reality star decided to end her third marriage social media was the platform of choice to make the announcement.
Fans were stunned when she dropped the bombshell that she was divorcing Kieran Hayley because she had discovered he had been having an affair with her best friend, Jane Pountney.
In a string of tweets, the 35-year-old star revealed her anger and hurt and branded Pountney a slut, home-wrecker and whore.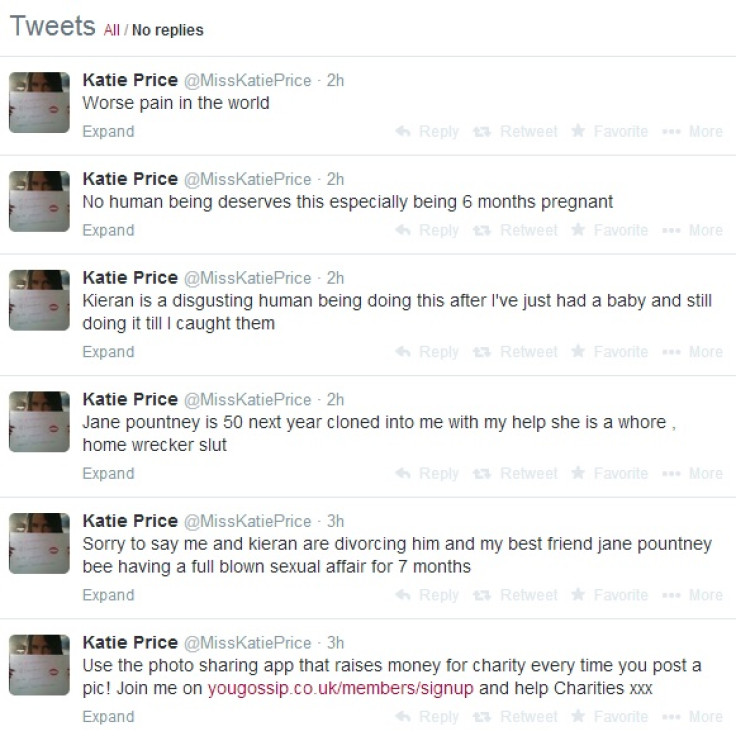 Although Pountney has kept silent, her husband Derrick has insisted that his wife did not have a seven-month affair with the former glamour model's husband.
"A lot of this drama has been a storm in a teacup and there's a lot of misunderstandings to sort out," he told MailOnline.
"There has not been a full-blown affair going on, it was more like a drunken kiss."
If Price's tweets are true then the affair would mean the end of her 20-year friendship with Poutney.
Pountney was bridesmaid at the Price-Hayley nuptials in the Bahamas and her 2010 wedding to Alex Reid.
Jane Pountney Facts
She is 49 years old.
Price said she had known Pountney since she was 15.
She is married to Derrick Pountney, with whom she has two chidlrem.
She was bridesmaid at Price's weddings to Alex Reid and Kieran Hayley
Pountney works as managing director for Pountney Tyres in Hove, a company owned by her and her husband.
Pountney gave evidence in court in September 2010 when Price was found guilty of being out of control of her horsebox.
© Copyright IBTimes 2023. All rights reserved.