Sir Alan Sugar, Harry Redknapp, David Beckham. London's East End is full of success stories and there are few are more impressive than that of Joe Lewis, a man born into poverty in the eastern part of the capital who has since become a mainstay in the list of Britain's richest men.
Lewis initially built his fortune in the hospitality sector by running the family business, before moving into the currency market and developing into one of the industry's big players.
At a glance
• Full Name: Joe Lewis
• Age: 80
• Place of birth: Bow, London.
• Net Worth: £4.4bn ($5.7bn)
• Marital Status: Married to Jane Lewis, after divorcing Esther Browne with whom he's had two sons, Vivienne Lewis Silverton and Charles Lewis.
• Listed on Forbes as the 269th richest man in the world in 2017.
Humble beginnings
Born above a pub on Roman Road in Bow, Lewis left school at 15 to work for Tavistock Banqueting, his father's catering company. Working for the family business for £6 a week, Lewis began to display the financial acumen that would shine throughout his career.
He likes to recall the story of how he would move a concrete bus stop sign from its usual place to position it outside his father's cafe in a bid to increase footfall. The idea proved to be a roaring success.
Lewis subsequently took the reins of the family business and expanded it. He also controlled the Beefeater pub chain and the Hanover Grand club in London West End's, but by the late 1970s he decided to leave the hospitality industry behind.
Lewis was the first employer of Robert Earl, who then went on to found the Hard Rock and Planet Hollywood chains.
Currency trading and Black Wednesday
After selling the family business for £30m in 1979, Lewis began to focus exclusively on currency speculations, building a fortune throughout the 1980s and 1990s. In 1992, he allegedly teamed up with billionaire George Soros to bet on the pound crashing out of the European Exchange Rate Mechanism (EERM).
The event, dubbed Black Wednesday, sank the sterling and forced the British government to withdraw the pound from the EERM. The pound's crash saw Soros pocket $1bn (£526m at the time) after short-selling $10bn worth of pound sterling, which earned him the nickname "the man who broke the Bank of England".
Lewis made a fortune from the event, which he then expanded through Tavistock group, an operation which has interests in more than 200 companies. The 80-year-old still conducts FX transactions on a daily basis from his residence in the Bahamas and has screens monitoring exchange rates in most of the rooms of his home.
Caribbean retreat and famous friends
Lewis, who is nicknamed "The Boxer" because of the similarities his name shares with that of American boxing legend Joe Louis, moved to the Bahamas after becoming a heavyweight of currency trading.
While famously reluctant to appear in public, the octogenarian boasts a number of extremely high profile friends, including golf legends Tiger Woods and Ernie Els and Scottish actor Sean Connery.
A keen art collector, his residence on New Providence, the most populous of the Bahamas, boasts a huge art collection, which includes works by Pablo Picasso and Henri Matisse.
Football venture
In the late 1990s, along with his son Charlie, and Daniel Levy, one of his closest business associates, Lewis set up an investment company called English National Investment Company (ENIC). Lewis' son was in charge of controlling the hospitality side of it, with Levy in charge of the football-related operations.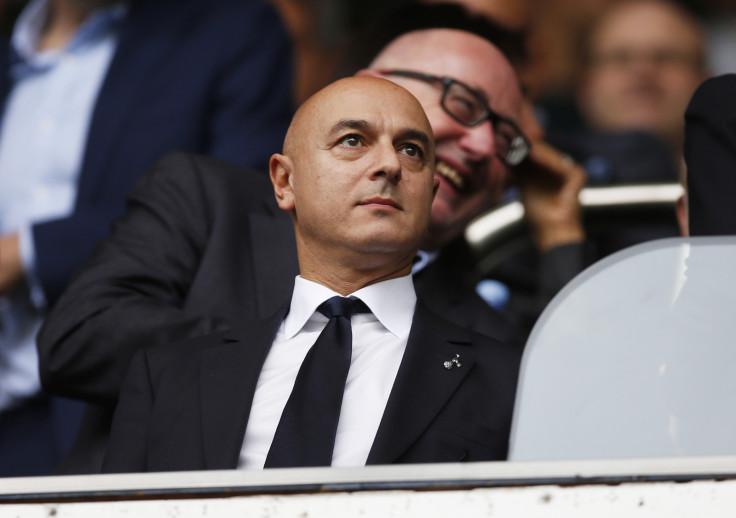 Soon after the company became a fully-listed firm and it bought stakes in a number of football clubs, including Glasgow Rangers, Slavia Prague, AEK Athens and Italian club Vicenza. More importantly, however, ENIC purchased a majority stake in Tottenham Hotspur from Sir Alan Sugar in 2001 for £22m.
In 2007, ENIC acquired Sugar's remaining shares and now hold 100% of Spurs. However, while Levy is very much the face of Spurs and attends every home game, Lewis remains in the background. In 2013, when Spurs were on a post-season tour of the Bahamas, the squad was welcomed aboard one of Lewis' yachts.
"We just sat there chatting," then captain Michael Dawson, who like the other players had never met Lewis before, said of the meeting.
"He made us feel so welcome over there. It was relaxed. A lot of team-bonding together. It helps to be able to put a face to the person investing so much in this club he wants to be successful. He's always watching. He knows what goes on."