Singer Joy Villa turned heads as she attended the 60th Annual Grammy Awards at Madison Square Garden on 28 January by sending out a strong political message with her choice of outfit.
A supporter of US President Donald Trump, Villa made a pro-life statement in a white dress with a large, hand-painted image of a foetus, surrounded by a rainbow paired with a purse that read "choose life", and Twitter had some interesting reactions to her outfit.
A user tweeted saying, "Somebody please give #JoyVilla the attention she SO desperately craves so she'll stop trying SO damn hard to be relevant. #GRAMMYs #IDontKnowHer," another wrote, "Joy Villa is just trying to make her career great again."
"So, who is this @Joy_Villa person?? . . . And who is dumb enough to keep inviting her to the #GRAMMYS," a confused user tweeted, while another sarcastically noted, "Yeah, if Joy Villa could stop being a pandering little attention whore, that'd be greeeeeaaaat"
Amid all the negative comments, some fans came to her support. "Joy Villa's purse had 'choose life' written on it, which clearly supports a woman's right to choose. Thank you @JoyVilla_ ! #prochoice not #antichoice. #Grammys2018 #Grammys"
"Thank you Joy Villa for being brave enough to speak the truth to a world that isn't ready to hear it!" said another supporter of Villa.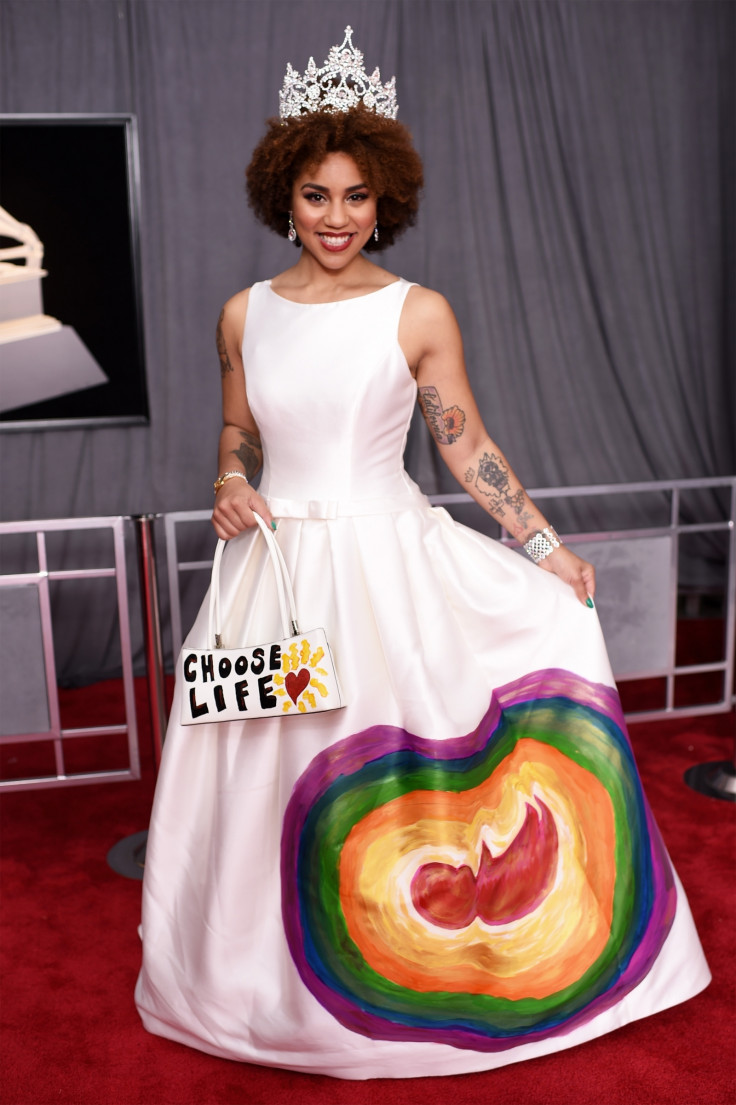 The I Make the Static singer explained the inspiration behind her choice of the anti-abortion outfit. She told Fox News, "I'm a pro-life woman. This year I chose to make a statement on the red carpet like I always do. I'm all about life."
The singer also revealed that she painted this year's dress because she gave a baby up for adoption when she was 21, and she said she supports adoption over abortion.
The 26-year-old said she is thrilled with Trump "I love what he is doing; unemployment is down. I am totally for President Trump, and it's only been one year. I can't wait for the next seven years!"