Singer Joy Villa turned heads as she attended the 60th Annual Grammy Awards at Madison Square Garden on 28 January by sending out a strong political message with her choice of outfit.
A supporter of US President Donald Trump, Villa made a pro-life statement in a white dress with a large, hand-painted image of a foetus, surrounded by a rainbow paired with a purse that read "choose life", and Twitter had some interesting reactions to her outfit.
A user tweeted saying, "Somebody please give #JoyVilla the attention she SO desperately craves so she'll stop trying SO damn hard to be relevant. #GRAMMYs #IDontKnowHer," another wrote, "Joy Villa is just trying to make her career great again."
"So, who is this @Joy_Villa person?? . . . And who is dumb enough to keep inviting her to the #GRAMMYS," a confused user tweeted, while another sarcastically noted, "Yeah, if Joy Villa could stop being a pandering little attention whore, that'd be greeeeeaaaat"
Amid all the negative comments, some fans came to her support. "Joy Villa's purse had 'choose life' written on it, which clearly supports a woman's right to choose. Thank you @JoyVilla_ ! #prochoice not #antichoice. #Grammys2018 #Grammys"
"Thank you Joy Villa for being brave enough to speak the truth to a world that isn't ready to hear it!" said another supporter of Villa.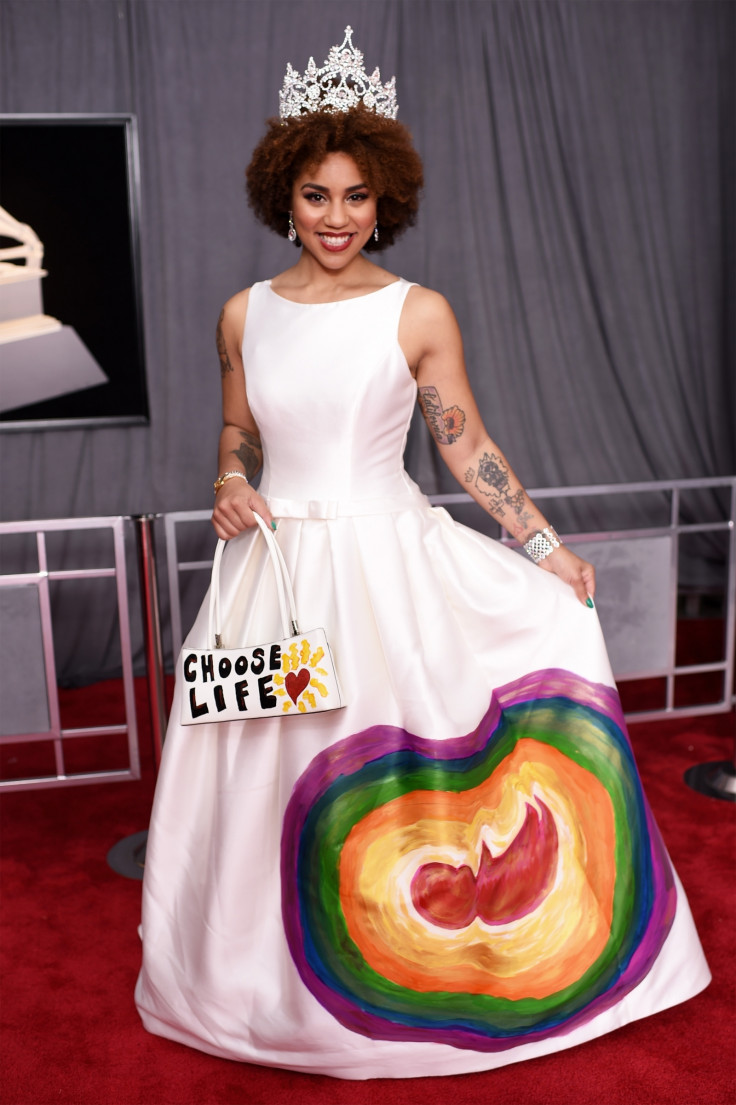 The I Make the Static singer explained the inspiration behind her choice of the anti-abortion outfit. She told Fox News, "I'm a pro-life woman. This year I chose to make a statement on the red carpet like I always do. I'm all about life."
The singer also revealed that she painted this year's dress because she gave a baby up for adoption when she was 21, and she said she supports adoption over abortion.
The 26-year-old said she is thrilled with Trump "I love what he is doing; unemployment is down. I am totally for President Trump, and it's only been one year. I can't wait for the next seven years!"
Who is Joy Villa?
Joy Angela Villa, known by her stage name Princess Joy Villa, is an American singer and songwriter. Born in Orange, California, her father Rev Joseph Villa was of Italian and Argentine descent, and her mum Mildred Angela Pierce Villa was African American.
She has credited her practice of Scientology for improving her life and career. Villa is an avid supporter of President Donald Trump and the admiration seems mutual. After she revealed that she was considering a run for political office, Villa got a thumbs-up from Trump, who tweeted, "Good luck to Joy Villa on her decision to enter the wonderful world of politics. She has many fans!"
The 26-year-old is also known for her attention-grabbing outfits at the Grammy Awards. In 2015, she wore a see-through dress made entirely out of orange construction-fencing material, designed by Andre Soriano.
For the 2016 Grammy's, Villa opted for a see-through dress consisting mostly of fabric spikes. The Huffington Post named it as one of its "Most Outrageous Looks From The 2016 Grammys".
Again at the 2017 Grammy Awards, Villa wore a blue dress, with a tiara and sparkling jewellery promoting Trump, featuring his campaign slogan "Make America Great Again" and the name "Trump".