The Grand Tour host Jeremy Clarkson has been enjoying the company of former model Lisa Hogan in recent months. The pair have been spotted soaking up the sunshine on a romantic break to the Caribbean island of Barbados, and looked particularly well-acquainted with each other as they casually dined at popular west coast eatery Lone Star during the daytime.
Lisa Hogan fact file
Place of birth: Dublin, Republic of Ireland
Age: 46
Occupation: Model, actress, movie script developer
Breakthrough: Starring in John Cleese's film Fierce Creatures
Spouse: Divorced Baron Steven Bentinck in 2005
Twice-married Clarkson, 56, was accused of having an affair in April 2011 with events organiser Phillipa Sage while touring Australia, South Africa and Norway for Top Gear. As early as 2002, a tabloid newspaper reported that he had passionately kissed television producer Elaine Bedell in a car.
After his second wife Frances Cain divorced him in 2014 after 21 years of marriage, Clarkson has been enjoying the single life, but now appears to be getting serious with the 46-year-old model.
So what do we know about Lisa Hogan?
She's a mother-of-three, boasting a statuesque physique at 6ft 2 inches tall. The Dublin-born star was once admired by comedian John Cleese, even starring in his film Fierce Creatures (1997). He essentially "discovered" her in the early 1990s when she was struggling to get a second-hand clothing business off the ground, subsequently employing her as a researcher.
Hogan soon met and fell in love with handsome, eccentric playboy Baron Steven Bentinck, who had previously been married to Italian-born Princess Nora Czartoryski. He is the nephew of billionaire Baron Heini von Thyssen, who owns one of the world's finest private art collections which he houses in Madrid.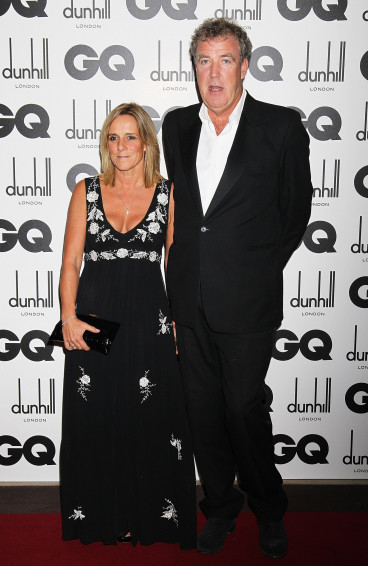 Hogan – who now develops movie scripts – is known for surviving a near-death experience while on her way to film at Pinewood Studios in 1996. The Learjet she was travelling in – chartered by Bentinck – overshot the runway at RAF Northolt.
It crashed onto the A40 in west London and collided with a van – but she managed to survive the accident pretty much unscathed – climbing out of the wreckage with just a leg cut. Afterwards, she claimed that if she hadn't curled up in a ball seconds before impact she would have lost both feet because the floor under her seat buckled.
The couple lived in Moyns Park, which was Lord Ivar Mountbatten's old pile in Essex, with their three children, Wolfe, Alice and Lizzy. In 2005, Hogan and the baron separated under amicable circumstances, despite the model retaining the services of Lady Diana's divorce lawyer, Fiona Shackleton.
After her divorce, Hogan was romantically linked to Cirque du Soleil investor and Canadian multi-millionaire Craig Cohon.
Hogan has been seen with motoring enthusiast Clarkson three times in the last few months, with a passer-by telling The Sunday Mirror: "Jeremy looked very relaxed around Lisa, and they seemed very taken with each other. They were laughing and joking around like a new couple."
She is the daughter of former model Arlene Underwood and Maurice Hogan – who dropped dead of a heart attack when she was just 14 years old.