Who is Maurice Woodside? 'Blacks for Trump' supporter at Trump rallies is former killer cult member
He is a former member of the Yahweh ben Yahweh cult.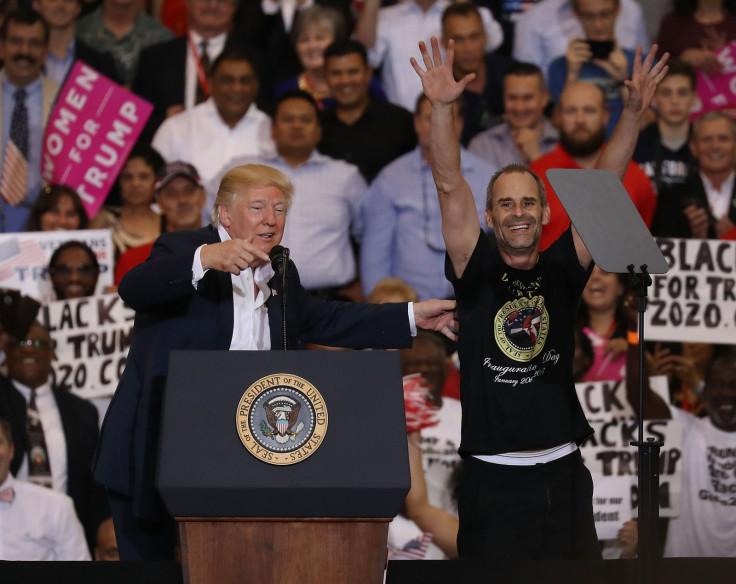 A man spotted holding a "Blacks for Trump" sign behind Donald Trump at a Florida rally has been identified as a former member of a dangerous cult.
Known as "Michael the Black Man", Maurice Woodside is a conservative opponent of gay rights based in Florida, according to the Miami New Times. He also goes by the name Michael Symonette.
He can be seen waving the sign behind Trump at a rally in Melbourne, Florida, on 18 February. Woodside was previously spotted at a Trump rally in Sanford, Florida, in October 2016.
Woodside was a member of the Yahweh ben Yahweh cult, founded in Miami in 1979 by Hulon Mitchell Jr, a preacher who dressed in white flowing robes and went by the name Yahweh ben Yahweh. The religious black separatist sect, an extreme Hebrew Israelite group, has often been labelled a hate group.
In 1990, Woodside and other cult members were charged for allegedly conspiring in two murders. He was found innocent by a Florida jury, despite his own brother testifying he stabbed a man in the eye with a sharpened stick.
Woodside later racked up four criminal charges, including carrying a weapon onto a plane, but he was never convicted in any of the cases, according to the Miami newspaper.
The Yahweh ben Yahweh cult had already begun to receive negative attention in the 1980s. In 1986, Robert Rozier, an American footballer and follower of Yahweh ben Yahweh, was arrested in connection with two murders. He would later plead guilty to the killing of 7 people.
In the 1990s, cult leader Yahweh was accused of three counts of federal racketeering and extortion charges, including 14 killings and two attempted killings.
Cult members who disagreed with the leader were said to be killed. The indictment also charged that new members were forced to prove their devotion by committing a murder, in which Yahweh ordered cult members to "kill me a white devil and bring me an ear" as proof.
In 1992, Yahweh was convicted of conspiracy to commit murder and sentenced to 18 years in prison. He was released on parole in 2001. Yahweh died in 2007 at the age of 71. His lawyer Jayne Weintraub stated the cause of death was cancer.
The Yahweh ben Yahweh group made headlines in 2012 when Woodside was invited to speak at a rally for Republican Rick Santorum's campaign.
"The Democrats, they're the worst thing that ever happen to the black man," Woodside told the crowd at the rally. "They're the slave masters."
Woodside has also referred to Oprah Winfrey as "the devil" and Barack Obama as "the beast" - an apocalyptic figure in the Bible.
It isn't clear whether Trump is aware of Woodside or his links to Yahweh ben Yahweh.
Trump however praised a Blacks for Trump placard at the October 2016 Sanford rally.
"I love the signs behind me. Blacks for Trump. I like those signs. Blacks for Trump. You watch. You watch. Those signs are great," he said.
© Copyright IBTimes 2023. All rights reserved.