A youth movement is making the political elite in Hungary sit up and take notice after it gathered almost twice as many signatures needed to spark Budapest's first ever referendum as it tries to get the city's bid to host the 2024 Olympics scrapped.
Momentum Mozgalom only emerged in the last two years with its 'NOlympia' campaign opposing the vast expense of the Games, money it says would be better spent in other parts of the economy. The group, whose members are predominantly under 35, has collected more than quarter of a million signatures opposing the bid.
Co-founder of Momentum, Miklós Hajnal told IBTimes UK that the Games' estimated 700bn forint (£2bn, €2.3bn) price tag, which does not include infrastructural developments, would be better spent on education and healthcare.
"Hosting the Olympic Games is a huge sum of money. Compared to the GDP, it is a much larger burden for us than for other countries and given the level of public development for public services, we feel it could be reinvested.
"Already the risk is that costs simply just sky rocket because we are talking about mega projects that cannot be delayed. In Hungary, this would be a large problem because of corruption," he said.
Budapest is hosting the swimming world cup this year and its costs have gone up four-fold compared with the original bid to $333m (€313m, £267m).
Fearing that an Olympics would follow the same fate, Momentum got to work and with only 143 members, managed to collect up to 10,000 signatures a day, including many from Hungarians living overseas. Budapest's city council will assess whether the signatures are valid.
Momentum has a team of legal experts standing by as it expects challenges both legal and from the media. "They (the government) could start blaming us for dividing the nation on this great project, they could call us traitors. We have already been called traitors by some of the media."
A poll published earlier in February, showed that support for the Olympics has slumped, with less than 52% of Budapest citizens saying they would vote against the games, compared with around 32% in September, Reuters reported. Hamburg and Rome have both dropped Olympics bids after facing public opposition, leaving Paris and Los Angeles as the front runners.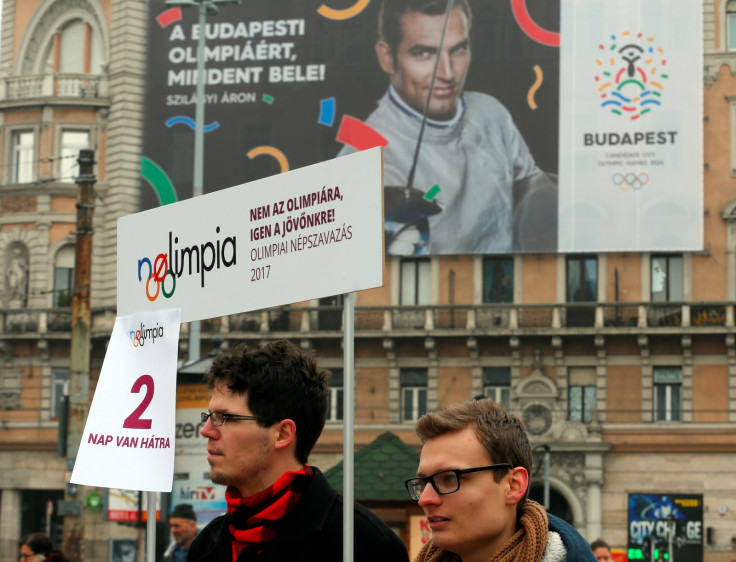 The city's mayor, Istvan Tarlos, said that he would consider withdrawing the bid if a referendum were called. However Momentum would not be satisfied with this, as they hope a ballot will catapult them into a campaign for the country's election in 2018.
Disillusioned with what they say is an inert opposition, its aim is to take on the ruling Fidesz party, whose leader Viktor Orban is in the firing line for clamping down on media freedoms and civil society.
In January, Orban's spokesman Zoltán Kovács told IBTimes UK that non-governmental organisations funded by billionaire financier George Soros should not act as de facto political opposition. The clampdown on NGOs has been criticised internationally, and the news outlet Atlantszo launched a legal case demanding the government in Budapest prove its claim NGOs meddle in party politics.
Momentum will run candidates throughout the country in 2018 and the popularity of its NOlympia campaign a sign that its message is being heard.
"We don't have a manifesto yet but by talking about what else we can spend this money on we are essentially outlining our proposal for the manifesto and our areas of focus.
"The referendum is a form of a protest vote. I hope people don't feel it is the only way they can protest as there will be protests next year in our elections, but I think many people are disappointed with the government and the opposition," Hajnal said.