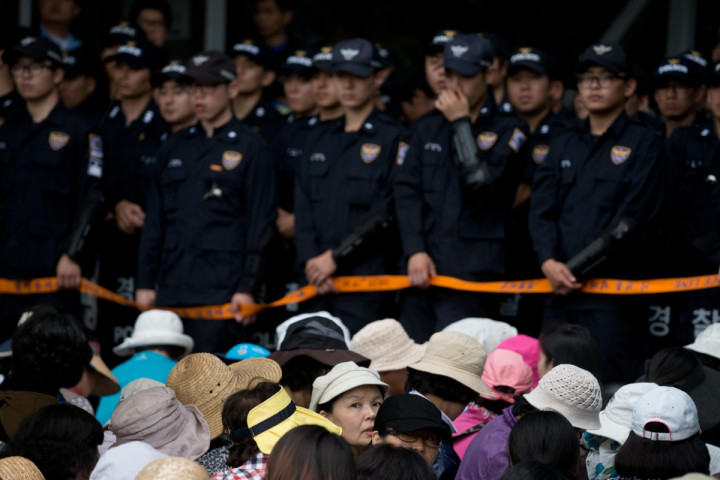 Thousands of police officers have been deployed to hunt down South Korea's most wanted man: the billionaire religious leader Yoo Byung-eun, who is believed to own the ferry that sunk killing hundreds of people in April.
More than 5,000 security forces raided the sprawling compound of a religious group called the Evangelical Baptist Church, in Anseong, just south of Seoul, looking for traces of the fugitive 73-year-old.
Four church members were detained on suspicion of providing shelter to Yoo or helping him flee, but the elusive businessman, dubbed "the millionaire with no face" because of his reluctance to appear in public, remains at large.
Prosecutor allege that, through a complex web of holding companies, Yoo controls the operator of the Sewol ferry that sunk near the southern city of Mokpo killing at least 292 people on board.
Detectives believe that corruption and mismanagement in the company might have led to poor safety standards.
Yoo has been wanted for questioning for weeks but police have so far failed in locating him.
His representatives have denied he had any connection to the Chonghaejin Marine Company.
South Korean authorities have however offered a $500,000(£300,000) reward for tips on his whereabouts.
Investigators believe that members of the Evangelical Baptist Church, described by critics as a cult, have been helping him abscond.
Thousands of policemen wearing helmets and armed with plastic shields stormed the massive church compound in Anseong, which reportedly covers an area the size of about 30 soccer fields and includes ranches, fields, a fish farm and an auditorium that can house up to 5,000 people.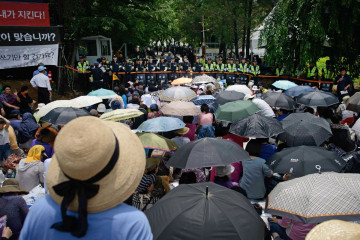 They were met by about 200 church members, singing hymns and chanting slogans.
"We'll protect Yoo Byung-eun even if 100,000 church members are all arrested," a banner read.
Yoo's name first came to public attention in 1987, when 32 people, said to be members of his church, were found dead, bound and gagged, in the attic of a factory near Seoul.
The incident was investigated as a collective murder-suicide and a probe showed that some of the victims had funnelled money to Yoo.
The church, believed to have a membership of about 10,000, denied any involvement.
Yoo was later cleared of any wrongdoing; there was a lack of evidence tying him to the deaths.
He was convicted is a separate trial on fraud charges in the 1990s and reportedly spent four years in prison.
Yoo is also believed to have an artistic alter-ego: an internationally acclaimed nature photographer who works under the pseudonym Ahae.
According to Ahae's website, he was born in in 1941 in Kyoto, Japan where his family had been relocated during the period of Japanese colonial rule, and returned to South Korea after the war.
Earlier this week, 15 crew members of the Sewol went on trial over the sinking on charges of negligence and failing to protect passengers.
Captain Lee Joon-seok, 69, and three other crew members have been charged with homicide.