Marvel film actor Mark Ruffalo fights climate change when he isn't smashing things with the Avengers as the Incredible Hulk. On Thursday the actor spoke out in support of the band of protestors who were evicted from land near the Standing Rock Sioux reservation.
"A lot of the work I do has to do with protecting water, and that's what these people are doing," said Ruffalo in an interview on CNN. "I also got to know some of them while we were fighting against hydrofracking here in New York state."
Ruffalo joined the protest for three days this week and gave the group solar panels so they could power an encampment that has grown up on the bank of the Cannon Ball River. The camp sits on a construction site for the Energy Transfer Partners Dakota Access oil pipeline.
Over six hours Thursday (26 October) 200 armed police and National Guards on foot, backed by military Humvees and armoured trucks, arrested 140 of the protestors and worked to push them off the privately-held land.
The Avengers star isn't the only celebrity who backs the group. Game of Thrones and Justice League star Jason Momoa, actor Leonardo DiCaprio, Susan Sarandon, and musician Pharrell Williams, have all voiced their support for the protest. Each of them says a lot is at stake.
The 1,825 km pipeline is planned to bring oil from North Dakota to Illinois, where it will be barrelled.
The camp began gaining mass in September after a judge rejected the Standing Rock Sioux tribe's lawsuit to stop construction. They said the $3.8bn (£2.86bn) four-state underground pipeline would destroy sacred burial grounds, prayer sites, and could taint the water supply of their reservation. Particularly controversial is a plan to tunnel it under the Missouri River. A leak there could pollute water for both the Sioux reservation and other cities in the state that draw water from the river.
The celebrities are opposed to the pipeline for these reason, along with the fact that building new oil infrastructure will improve energy companies production of fossil fuels. This, DiCaprio and Ruffalo have said, which contribute to climate change, its associated extreme weather events, and changing ecosystems. It isn't clear yet whether the eviction will stop the protest.
Even Donald Trump has been pulled into the controversy as financial records show he has invested in Energy Transfer Partners that the company's CEO has given money to his presidential campaign.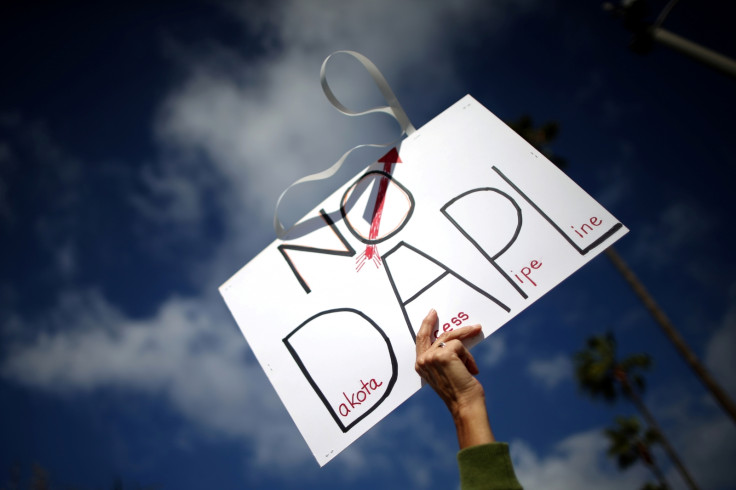 "I made relationships with these people," Ruffalo said on CNN, "during the climate march here in New York where 500,000 people from all over the world gathered to stop climate change."