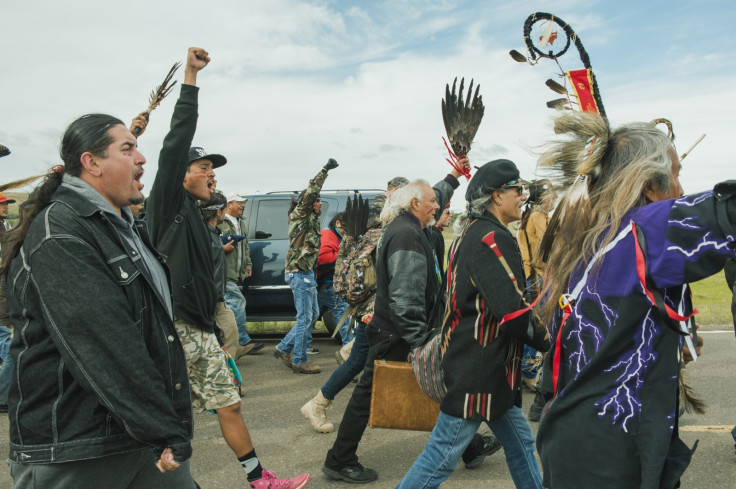 The US government on Friday (9 September) temporarily halted the construction of the Dakota Access Pipeline after a federal judge earlier in the day rejected the lawsuit filed by the Standing Rock Sioux tribe to stop the construction of the $3.8bn (£2.86bn) four-state pipeline.
Judge James Boasberg of the US District Court in Washington, DC had said that the tribe failed to show "it will suffer injury that would be prevented by any injunction the court could issue." However, later in the day three federal agencies — the Department of Justice, the Department of the Army and the Department of the Interior — stepped in and asked the pipeline company to "voluntarily pause" work on a sector that tribal officials believe holds sacred sites and relics.
The three departments released an official statement mentioning the case highlights the need to consider "nationwide reform with respect to considering tribes' views on these types of infrastructure projects."
"The Army will not authorize constructing the Dakota Access pipeline on Corps land bordering or under Lake Oahe until it can determine whether it will need to reconsider any of its previous decisions regarding the Lake Oahe site under the National Environmental Policy Act (NEPA) or other federal laws. Therefore, construction of the pipeline on Army Corps land bordering or under Lake Oahe will not go forward at this time.
"The Army will move expeditiously to make this determination, as everyone involved — including the pipeline company and its workers — deserves a clear and timely resolution. In the interim, we request that the pipeline company voluntarily pause all construction activity within 20 miles east or west of Lake Oahe," the US Department of Justice said.
The Dakota Access Pipeline is designed to transport crude oil from North Dakota into Illinois, which will also run through the states of South Dakota and Iowa. The 1,170-mile pipeline crosses 50 counties and three major rivers.
However, the Standing Rock Sioux along with a number of other tribes have been protesting against the construction as they fear the construction will ruin sacred sites and contaminate drinking water for them.
First they started protesting silently against the proposal approved by the US Army Corps of Engineers, but later it turned violent when oil pipeline company bulldozers began to dig up land believed to be sacred ancestral sites.
Taking note of the demonstration, the Obama administration said, "...we fully support the rights of all Americans to assemble and speak freely. We urge everyone involved in protest or pipeline activities to adhere to the principles of nonviolence. Of course, anyone who commits violent or destructive acts may face criminal sanctions from federal, tribal, state, or local authorities.
"The Departments of Justice and the Interior will continue to deploy resources to North Dakota to help state, local, and tribal authorities, and the communities they serve, better communicate, defuse tensions, support peaceful protest, and maintain public safety," the statement by the department read.