Climate-change activists arrested after disrupting flow of crude oil from Canada to US
Activists targeted pipelines that carry as much as 15% of daily US oil consumption.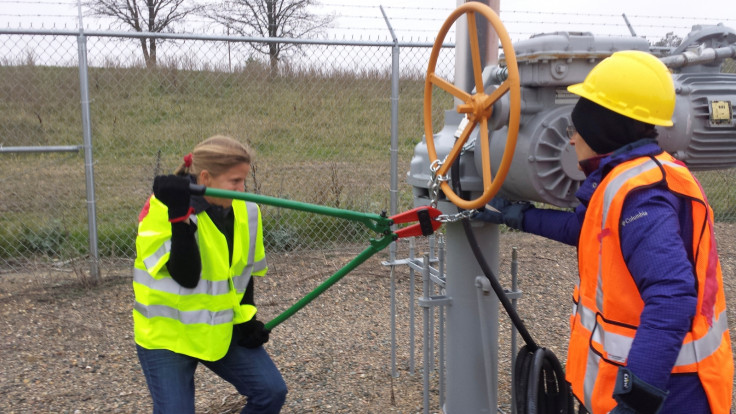 The United States authorities on Tuesday (11 October) arrested activists from the Climate Direct Action group after they disrupted the flow of crude oil from Canada to US. This comes after the activists targeted several key pipelines simultaneously in a bid to stop the stream of oil. They cut padlocks and chains and entered remote flow stations to turn off valves.
While three persons were arrested in Washington State, one was held in Montana. Authorities also arrested a few of activists in Minnesota and North Dakota, the activist group said.
According to reports, the activist group posted videos online showing the movements to stop crude moving through lines that carry as much as 15% of daily US oil consumption. The protest association said their action was in support of the Standing Rock Sioux Tribe, which has been protesting the construction of a separate $3.7b (£3.01b) pipeline, the Dakota Access Pipeline — designed to transport crude oil from North Dakota into Illinois.
The 1,170-mile pipeline that crosses 50 counties and three major rivers will also run through the states of South Dakota and Iowa.
The Sioux Tribe along with a number of other tribes fear the structure will ruin sacred sites and contaminate drinking water for them.
However, officials, pipeline companies and experts were of the opinion that the protesters were causing environmental damage themselves by shutting down the lines. They said unprepared shutdowns could lead to a build-up of pressure and cause splits or leaks.
"Tampering with energy infrastructure is a dangerous activity and it could cause harm to citizens and surrounding communities, which is unacceptable," Canadian Energy Minister Jim Carr said.
But a spokeswoman for the group, Afrin Sopariwala, said, "We are acting in response to this catastrophe we are facing," while mentioning about global warming.
The development comes amid a series of actions by environmentalists and others over climate concern and the potential effects on land and livelihoods of spills. On Monday, several people including Snowden actress Shailene Woodley were reportedly taken into custody after being arrested for two misdemeanours including engaging in a riot at the pipeline protest in North Dakota.
© Copyright IBTimes 2023. All rights reserved.