Armed soldiers and officials in riot gear began arresting demonstrators protesting the construction of the Dakota Access oil pipeline. Protesters had set up camp on private land, prompting the move by authorities on Thursday (27 October).
Around 200 activists supporting the Standing Sioux Tribe arrived at the camp site near the $3.8bn (£3.2bn) Dakota Access Pipeline last weekend, according to CBS affiliate KXMB. The protesters set up teepees and tents and claimed the land was rightfully theirs under an 1851 treaty with the US government.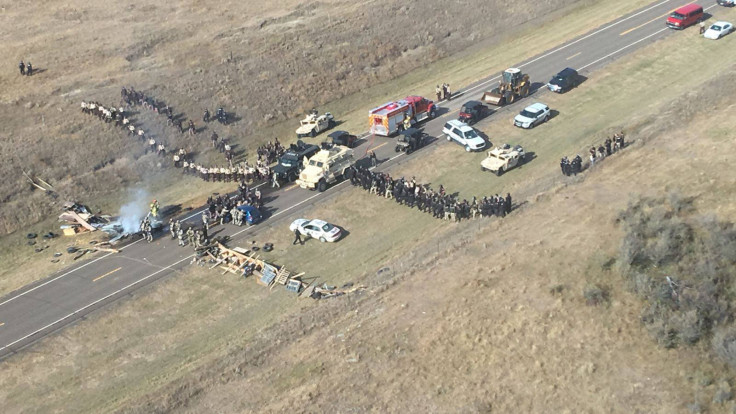 Authorities arrived at the North Dakota camp to respond to "aggressive" tactics by demonstrators, State Emergency Services spokeswoman Cecily Fong said.
Fong told CBS News that protesters had thrown rocks at officers and had threatened them. She added that she was unaware of any serious injuries to officers or protesters.
Several protesters were removed from the camp and put in trucks, with at least one person being handcuffed. Donnell Preskey, a spokeswoman for the sheriff's department, told Reuters that there had not been any arrests.
Officials used sirens and loudspeakers to order protesters to evacuate the site. The situation was monitored by two helicopters and a plane.
Protesters were adamant about remaining on the private land, though the majority did retreat from the scuffle with authorities.
They reportedly attempted to slow law enforcement by using their vehicles to block the highway. Protesters slashed their vehicle tyres and even created a small fire at one of the two blockades.
The Associated Press reported that there were initially no clashes between protesters and authorities but soon scuffles between protesters who wanted to remain and those who were willing to leave broke out.
Morton County Sheriff Kyle Kirchmeier said the protesters' refusal to leave the land "forced" authorities to respond. "I can't stress it enough, this is a public safety issue," Kirchmeier said in a statement. "We cannot have protesters blocking county roads, blocking state highways or trespassing on private property."
Protesters have tried for months to block the 1,172-mile (1,890 km) pipeline, which is being built by a group of companies led by Energy Transfer Partners, L.P.
The pipeline would provide the fastest and most direct route to transport Bakken shale oil to the US Gulf Coast refineries, Reuters reported.
While supporters claim that it would be safer than transporting oil by road or rail, the Standing Rock Sioux Tribe and environmental activists argue that the pipeline threatens both the water supply and sacred tribal sites in the area.