Facing multiple claims that he flirted with underage women, Alabama judge Roy Moore became the Republican 'face' of sexual harassment. As the Democrats criticised Moore from the sidelines, they soon found themselves in the same position after one of their own was accused of sexually assaulting two women.
Minnesota Senator Al Franken found himself embroiled in a sex scandal after model and sports broadcaster Leeann Tweeden revealed how he forcibly kissed her while the two took part in a rehearsal for a United Service Organizations (USO) performance back in 2006. "I felt disgusted and violated," she wrote in a blog on 16 November about the incident.
Days later on 20 November, Lindsay Menz said that in 2010 she was groped by the senator while posing for a photo with him at the Minnesota State Fair.
Franken apologised for his inappropriate behaviour and called for an ethics investigation into the claims against him.
Most recently, Huffington Post spoke to two other women who also claim he touched their derrieres during his first campaign for the Senate.
"My story is eerily similar to Lindsay Menz's story," one woman said of meeting Franken in 2007 at an event hosted by the Minnesota Women's Political Caucus in Minneapolis. "He grabbed my buttocks during a photo op."
The second woman claims the senator cupped her butt at a 2008 Democratic fundraiser in Minneapolis before suggesting the two take things forward in the bathroom.
"My immediate reaction was disgust," she said. "But my secondary reaction was disappointment. I was excited to be there and to meet him. And so to have that happen really deflated me. It felt like: 'Is this really the person who is going to be in a position of power to represent our community?'"
Responding to the claims, Franken told Huffpost that it was "difficult to respond to anonymous accusers" but insisted that he "did not proposition anyone to join me in any bathroom".
The scandal comes as a shock to many who consider Franken as one of the leading figures of the Left movement. As in the case of Moore, who has a number of supporters who refuse to believe the claims as anything more than political sabotage, the Saturday Night Live alum has also found support, this time in the way of his female co-workers.
A statement was released on 21 November by 36 former SNL staff members who wrote that they felt "compelled to stand up for Al Franken, whom we have all had the pleasure of working with over the years". Labelling his past actions as "stupid and foolish", they said he was an "honourable" person since he never acted inappropriately towards them.
"In our experience, we know Al as a devoted and dedicated family man, a wonderful comedic performer and an honourable public servant," the statement read. "That is why we are moved to quickly and directly affirm that after years of working with him, we would like to acknowledge that not one of us ever experienced any inappropriate behaviour; and mention our sincere appreciation that he treated each of us with the utmost respect and regard."
A number of former Franken female staffers have also defended their ex-boss, painting him as "a champion for women both in the legislation he supported and in promoting women to leadership roles in our offices". Others have questioned if there is any truth behind the claims and decided it was a gimmick to discredit a respected Democrat.
Rape culture expert Kate Harding even went on to write an op-ed for the Washington Post in which she says she does not want Franken to resign, making him seem the better of two evils.
"I am a realist who recognises that we get two viable choices, and Democrats are members of the only party positioned to pump the brakes on Republicans' gleeful race toward Atwoodian dystopia," she wrote. "Meanwhile, I recognise that men's harassment of and violence against women is a systemic issue, not a Democrat or Republican problem, a Hollywood problem, a sports problem, or a media problem.
"Its roots lie in a patriarchal culture that trains men to believe they are entitled to control women's bodies – for sex, for sport, for childbearing, for comedy," she added.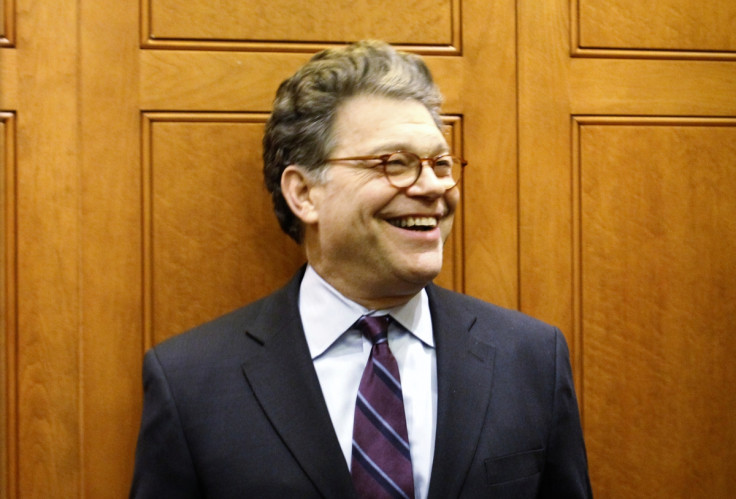 These defences have received criticism from both sides of the political arena – with many making it a point to stress that sexual harassment is a bipartisan issue. It is important to note that many of the women who have spoken up for the 66-year old, have also raised their voices to sonorously condemn Republicans accused of sexual misconduct and continue to criticise Moore.
"Whataboutism" – a word coined to describe the tactic of moving attention from one spot by pointing the finger in another direction – is becoming more prominent by the day. With Franken joining the list of disgraced public figures, Democrats seem to be using the Trump-tested technique in their favour now.
However, with politically-loaded attacks flying across the field, the list of those remaining to defend the victims is a shrinking one.