First President-elect Donald Trump bewildered the tech world by hiring former mayor of New York Rudy Giuliani to lead the Trump administration's cybersecurity agenda, and now Giuliani's website has mysteriously gone offline.
At his first press conference on Wednesday 11 January, Trump announced that he intended to gather "some of the greatest computer minds anywhere in the world" to tackle the recent spate of cybersecurity problems facing the US government, but then instead of hiring a well-known firm or talking to Silicon Valley's elite, he hired Giuliani, who heads Giuliani Partners, a consulting firm supposedly focusing on cybersecurity.
Tech and mainstream media alike mocked the Giuliani Security and Safety website (view a cached copy here on Wayback Machine) because it featured a simplistic, out-of-date page layout akin to something out of the early 2000s, as well as a whole host of critical security flaws, including expired SSL encryption, an exposed CMS login page and the use of Adobe Flash, which browsers have all but ditched.
And now, you can't access the website at all. If you try to access Giuliani Security via its URL, you'll be informed that the DNS address cannot be found – this means that someone has mysteriously deleted the DNS records for the website.
DNS records are used to point a domain to a website's IP address so that users can access the website, and the only reason you would possibly want to delete such a record would be to try to make it impossible for anyone to surf to the website or to find it from a search engine.
An interested user on social bookmarking website Reddit decided to try to access Giuliani Security by looking up its IP address, which is 209.238.99.227, and on Saturday 14 January he was still able to access the site, but now, as of Monday 16 January, the IP address isn't working either.
Why is Giuliani's firm now hiding offline?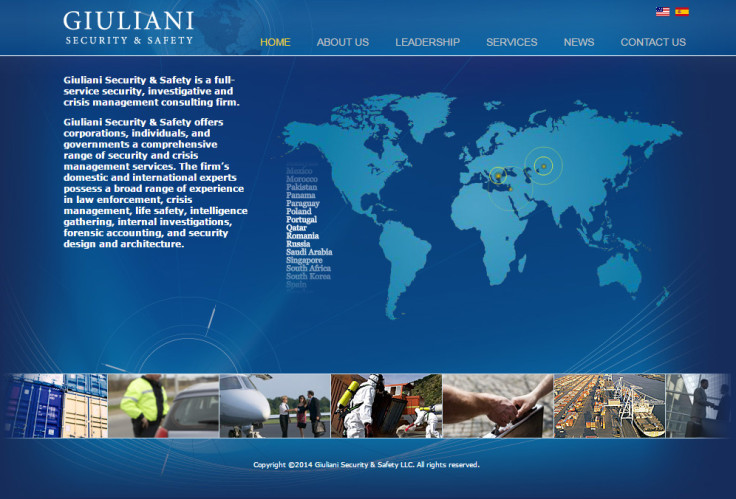 Competent IT users on Reddit have speculated that someone on Giuliani's web team initially tried to disable the website so that people couldn't visit it simply by removing the DNS entry, which just asks further questions about Giuliani's cybersecurity know-how, because if you really wanted to take a site offline, you would need to disable the IP address too.
The irony isn't lost that the website of Donald Trump's cybersecurity adviser was poorly protected and is now offline. The question remains as to why it is inaccessible. Perhaps the media coverage highlighting the site's flaws prompted a take down in order to protect against a hack. Or could it be that Giuliani may be building a new, improved website to better reflect his new job title?
So many questions, but no answers. IBTimes UK has contacted Giuliani Security and Safety for comment and is waiting for a response.