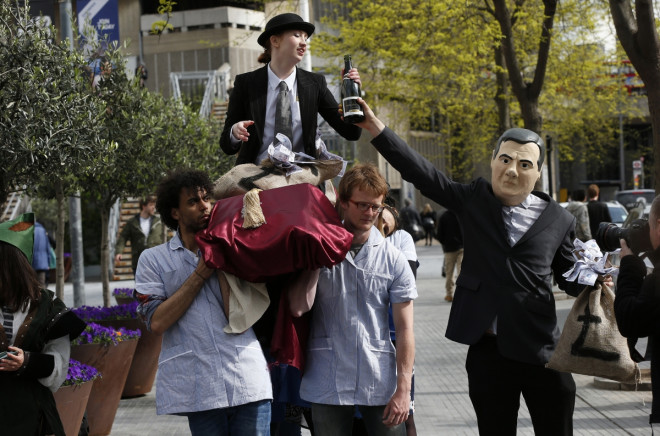 A new study has shown that journalists have not unduly "bashed bankers" following the credit crisis and spate of financial scandals despite the moans from financiers.
According to University of Oxford and Prime Research, claims that financial journalists set out to bash the bankers between 2007 and 2013 are exaggerated and the findings "contradict views voiced by some in the financial industry and in existing academic literature that journalists were highly negative and overtly critical of the banking and financial institutions during that period."
"When things are going well, the media appear keen to report good news," said Professor Robert G Picard, Director of Research at the Reuters Institute for the Study of Journalism, part of the University of Oxford that helped conduct study.
"The Royal Bank of Scotland (RBS) received very positive coverage before it ran into difficulties. Our research suggests that the media does not view its role as being to bolster business in bad times or to be overly critical."
"What is clear is that when institutions suffer large losses, become financially unstable, are the subject of regulatory intervention, or become mired in scandals or legal probes, financial news suddenly becomes front page news.
"The amount of coverage given to business news rises in line with an increasingly negative tone. What is shown in this research is that this negativity can stick around in the news coverage for months or even years afterwards – even when that institution is no longer attracting the same level of media interest."
Researchers "systematically sifted" through thousands of pieces of financial news from the onset of the Lehman Brothers collapse of 2008 to determine whether "negative press" was prevalent, even if an institution had good news to report.
The study showed that, actually, only one-quarter (25%) of the coverage was 'negative' in tone while 24% of financial news was found to be 'positive.'
Researchers added that for part of the study, the analysts "looked at UK coverage specifically and found that once banks hit trouble, they are more likely to feature on the front pages of newspapers than any of the other top FTSE companies and their sectors".
Since the onset of the credit crisis in 2007, banks had to be bailed out across the globe. Since then a seemingly neverending raft of lawsuits related to toxic mortgage products have dominated litigation proceedings in Europe and the US in particular.
On top of that, bankers have still received a steady flow of bonuses despite a spate of scandals, including Libor fixing, FX manipulation and the mis-selling of financial products.