Thousands of bats have been killed by a heatwave in Australia. Piles of corpses have accumulated beneath trees in Richmond Valley, New South Wales, as temperatures exceeded 45C.
More than 2,000 pteropus, commonly known as "fruit bats" or "flying foxes", are believed to have dropped dead from dehydration over the weekend of 11-12 February and experts believe the death toll will rise as the temperature remains dangerous.
The worst struck municipality in Richmond Valley was Casino. Harrowing images show hundreds of the animals, whose wingspan is around 1m, heaped lifelessly in car parks and gardens.
The region has experience of similar crises. In November 2014, more than 5,000 dead bats perished during a summer heatwave.
Weekend temperatures reached 47.6C in parts of New South Wales, south-eastern Australia. Rangers and volunteers have made every effort to save the overheated bats but have only had limited success.
Northern Rivers Bat Coordinator Lib Ruytenberg said: "We were using mist-spraying to hydrate the trees where the bats were roosting and the ones that came down low, we took them into care and hydrated them."
"Over the next few days we'll be seeing bats still coming down and falling into people's backyard. Members of the public need to remember that they shouldn't touch the bats," she told ABC.
Locals have been told they can throw towels over the bats but must not try and move them. Australian bats can carry Lyssavirus, a family of viruses that includes rabies.
A North Coast Area Health Service spokesman said: "We've had three human cases of lyssavirus in Australia, in Queensland, and all three people died."
He added that if anyone came into contact with dead bat, they should "wash the site with good quality soap and water, apply a good quality disinfectant and then call your GP or present to the nearest emergency department".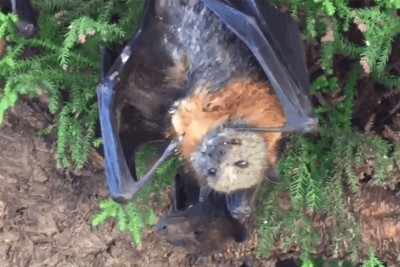 Locals have been forced to endure the foul stench of rotting corpses while they wait for dead animals to be cleared. Richmond Valley Council general manager Vaughan Macdonald said many of them were difficult to access as they had fallen along the riverbank.
He added: "We will continue to monitor the area and pick them up as that happens. There may be some odours, so again people just report that to council and we will respond as soon as possible."
Around 700 flying foxes died in the New South Wales town of Singleton over the weekend. Jalla Presland from Wildlife Aid said: ""Unfortunately we encounter it in much smaller numbers most summers. The worst one that we have encountered is this one since 2004."