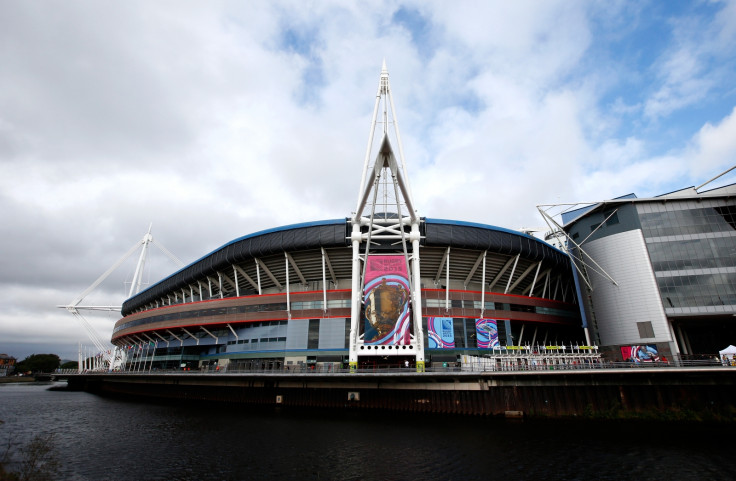 Real Madrid are well known for their big money Galactico signings but Champions League final opponents Juventus have rarely hesitated in splashing the cash in recent seasons. IBTimes UK look at the cost of both squads and other defining statistics ahead of the Cardiff showcase.
Expected starting XI: €285.5m vs €285.5m
The likely absence of Real's record signing Gareth Bale from Zinedine Zidane's starting eleven helps balance out the cost of both sides. However, it is still a major surprise that the pair will have spent a similar amount ahead of the climax to the European club season.
Juventus spent just €4m less than the €94m invested by Real in 2009 to lure Cristiano Ronaldo away from Manchester United, last summer and are not the frugal outfit that many depict them as.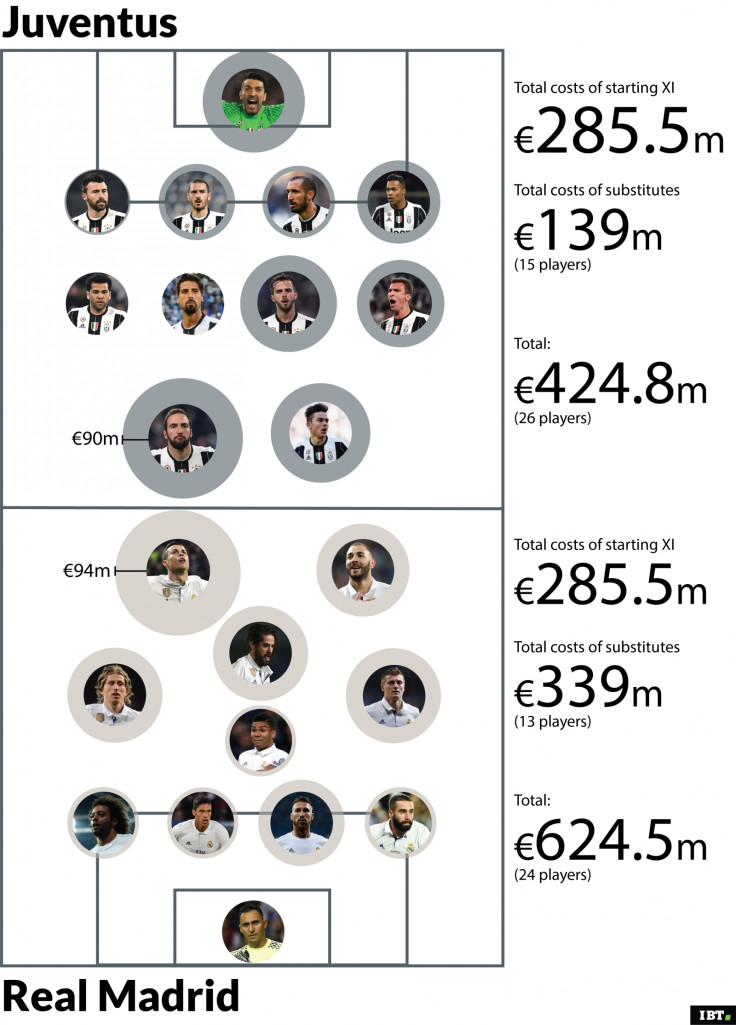 Goalkeepers: €53m vs €10m
Juventus easily prevail in the battle between the respective 'keepers. The €53m invested in their captain more than 15 years ago has more than paid off and ensures the former Parma star remains the most expensive goalkeeper in the history.
Keylor Navas, however, arrived in Madrid for only €10m as he was tipped to serve as a mere back-up for Iker Casillas – until Los Blancos signed a world class stopper like David De Gea.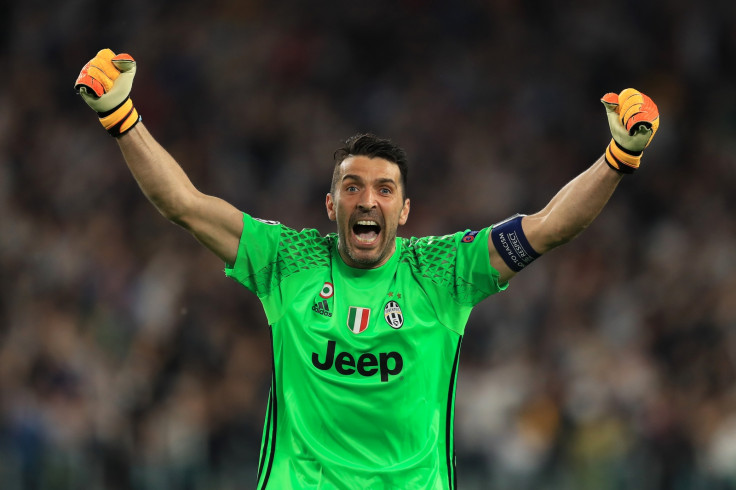 Defence: €49.5m vs €50.5m
Juventus' back-line have gained a reputation as the best in the world. They have only conceded 38 goals during the whole 2016-2017 campaign (31 less than Real Madrid) and managed to blunt a powerful Barcelona attack in the Champions League last 16 with clean sheets in both legs.
The Serie A giants paid €26m to get Sandro from Porto in the summer but their famous BBC back-line formed by Leonardo Bonucci, Andrea Barzagli and Giorgio Chiellini only required a €23.5m investment. Yet, the latter arrived in 2010 for €15.5m and last summer Manchester City and Chelsea were reportedly ready to triple that fee to lure him to the Premier League.
Allegri has shown his willingness to adapt his side to different formations by using both 4-2-3-1 or a 3-4-3, with two offensive full-backs. Against Real it is likely he will gamble on a back four with the former Barcelona full-back Dani Alves providing assistance from the right – as he already did in the semi-finals against Monaco.
The structure of Real's defence comes as a result of Los Blancos' global scouting network. Marcelo, Raphael Varane and Sergio Ramos came for €6.5m, €10m and €27.5m respectively as teenagers and today they are considered at the top of their profession. Meanwhile, academy product Dani Carvajal now competes with Alves for the crown as the best right-back around and cost peanuts when Los Blancos re-signed him from Bayer Leverkusen by triggering a €6.5m by-back clause in the summer of 2013.
Midfield: €53m vs €96m
Real Madrid's midfield is economically more powerful than Juventus' due to the €90m the Spaniards invested in luring Luka Modric, Toni Kroos and Isco to the club. Though it is clear money is not everything as Casemiro - a crucial player to gives balance to the whole team - was signed for only €6m.
The reduced price of Juventus' midfielders is partly down to their success of bringing players to the club in the twilight of their contracts. Dani Alves and Sami Khedira arrived after being discarded by Barcelona and Real Madrid respectively.
Miralem Pjanic leads the midfield after being brought in the summer for less than a third (€32m) than the money generated by Paul Pogba's departure to Old Trafford. Meanwhile, €21m Mario Mandžukić completes the midfield from the left wing despite arriving from Atletico Madrid as a number nine.
Attack: €130m vs €129m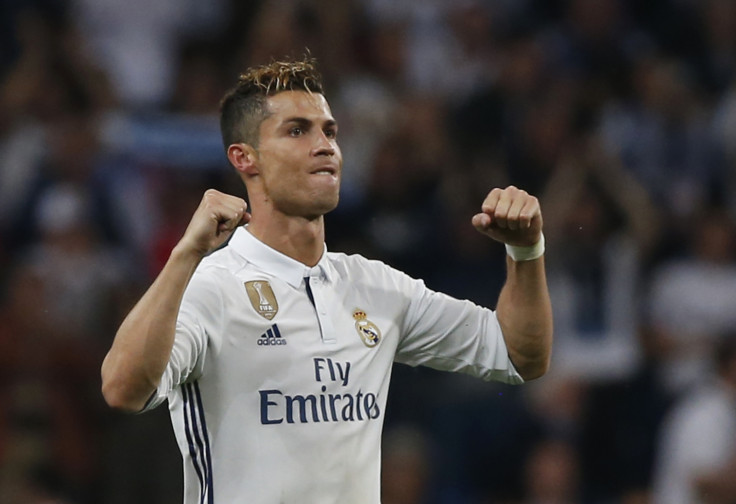 Again, the Champions League finalists are almost level pegging in terms of the value of their attack. Juventus are curiously led by a player who was considered surplus requirements at Real Madrid in 2013. Yet, following some impressive campaigns at Napoli, Gonzalo Higuain became one of the most expensive players in the history last summer by completing a €90m move to Max Allegri's side.
The Argentina striker and Ronaldo are both sides' top scorer while Paulo Dybala and Karim Benzema add the magic touch. La Joya came from Palermo in a €40m deal and has emerged as a candidate to take the baton from Ronaldo and Lionel Messi at the top of world football.
Benzema, meanwhile, has aroused certain doubts since his €35m arrival from Lyon in 2009. However, he has the capacity to be untouchable and delivered in the semi-finals against Atletico Madrid. Both attacks are also almost identically matched. Higuain and Dybala have scored 51 goals between them this season.
Bench: €139m vs €339
If football was only about money, it is undeniable that Zidane has an ace up his sleeve. The France World Cup winner has €339m worth of talent on the bench to call upon should his team require a late intervention. The likes of Fabio Coentrao and Pepe have high value yet they are unlikely to even make the final 18-man matchday squad.
Bale is the clearest example of Los Blancos' impressive depth, but not the only one. Having a player like James Rodriguez on the bench is a luxury which only a club like Real can boast. Alvaro Morata, Danilo, Pepe or Coentrao also cost €30m or more each and today they act as mere fringe players for Zidane. Fiscal value is not everything however and Marco Asensio and Lucas Vazquez may be selected ahead of those aforementioned marquee signings if the game requires pace in the second half.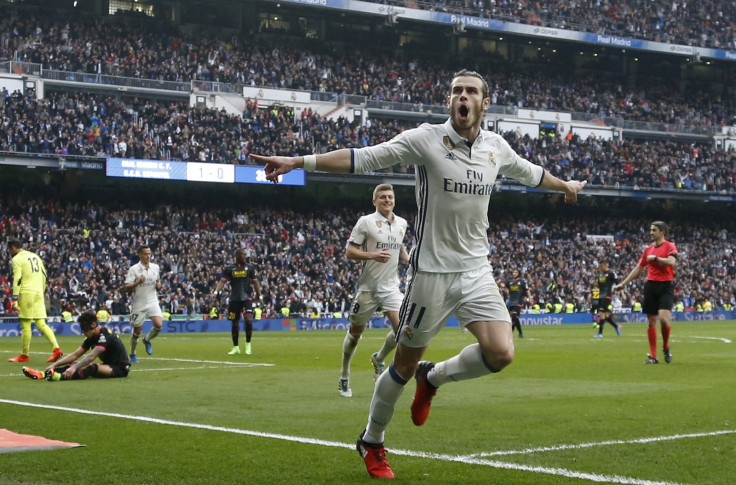 Alegri's options are not as glamorous. His first-team squad might be bigger (26 to 24) but the cost of all his 15 fringe players is not even the half of Real's outcasts. None of his substitutes reach the €30m fee and former Chelsea winger Juan Cuadrado is the greatest weapon to turn around the things from the bench.