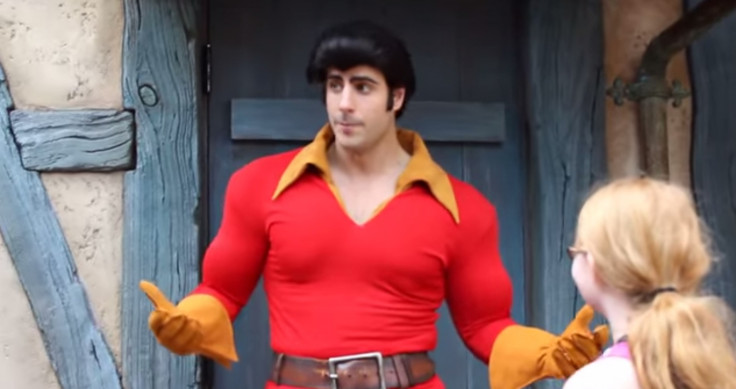 This week the internet is raving over an unknown Disney cast member who has won the hearts of masses with his hilarious and convincing performance as Beauty And The Beast villain Gaston.
Delighted visitors to the Walt Disney World Resort in Orlando, Florida, have been posting videos over the past year of a Gaston character actor who routinely takes part in the hugely popular meet and greet sessions held every day at the theme park.
You would not think Gaston, who thinks he is the strongest, most handsome man in the world, would be a popular character, especially being a hated villain and all, but small capsules of brilliance have been popping up on the internet that prove otherwise.
The latest video, of a Disney visitor challenging the Disney cast member to a push-up contest, and then winning, has gone viral, but Gaston's fame has been slowly growing for a while.
In fact, he is probably the only man who can get away with making sexist comments, as he routinely tells female park visitors they should not be thinking, or reading, much at all.
IBTimes UK has contacted Walt Disney World for more information about the unknown Gaston, but in the mean time, here are some of Gaston's best comments in videos shots by visitor fans:
1. A little girl puts Gaston in his place
A little girl refused to accept the fact that Belle will be Gaston's wife, and tells Gaston the Beast will come and beat him up. Gaston tells the little girl to go and stare at his statue and loudly tells the Beast to bring it.
2. Gaston trounces man with one-handed push ups
Clearly this Disney cast member's biceps are not just for show, as Gaston proves not only can he rapidly pump out push ups like a pro, he is also able to do them one-handed, on demand.
3. Losing an arm wrestling contest
Of course, Gaston doesn't always get to win, but even when he is publicly humiliated, he's still pretty funny to watch. Check out this little girl who manages to beat the lofty Gaston at arm wrestling.