Five years after she was arrested for leaking classified information to WikiLeaks and Julian Assange, Chelsea (né Bradley) Manning reveals for the first time her devastating ordeals in prison, her loneliness and her battle to transition to a woman.
"I find it difficult to believe, at times, just how long I have been in prison," she writes in a first-person account in the Guardian. "There have been so many ups and downs – it often feels like a physical and emotional roller coaster."
Shortly after her arrest, she was held in Kuwait in a "cage inside a large tent," and grew despondent, fearing "that I was forever going to be living in a hot, desert cage, living as and being treated as a male, disappearing from the world into a secret prison and never facing a public trial." She grew so desperate that Manning says she even considered castrating herself — and suicide.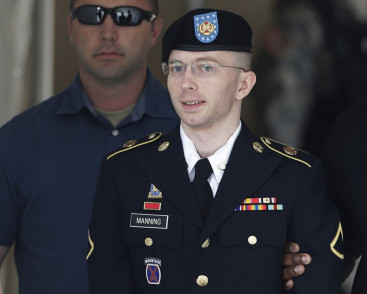 She was "considerably less mature" in 2010 "than I am now" and did not fully understand the consequences she would face for leaking classified information, writes Manning. But she believed the information had to be revealed.
"Once you come to realise that the co-ordinates in these records represent real places ... and that the numbers represent actual human lives – with all of the love, hope, dreams, hate, fear and nightmares with which we all live – then you cannot help but be reminded just how important it is for us to understand and, hopefully, prevent such tragedies in the future," she notes.
The day after she was sentenced to 35 years in prison, "I finally announced my intent to change my name and transition to living as woman – a personal high point for me, despite my other circumstances."
Four months ago, following a court battle, Manning was finally allowed the hormone treatment she requires to be a woman.