WikiLeaks has released yet another batch of emails from the personal account of Clinton campaign chairman John Podesta as part of its ongoing series of leaks in the run-up to Election Day. Published on Sunday (6 November), the 32nd batch of Podesta emails reveals that CNN allegedly asked the Democratic National Committee for interview questions to pose to Republican rivals Donald Trump and Ted Cruz.
A 28 April 2016 email exchange between DNC research director Lauren Dillon and some other Democratic officials and staff members titled "Cruz on CNN" mentioned that CNN was looking for questions to ask Senator Ted Cruz in an upcoming interview.
"CNN is looking for questions," the email read. "Please send some topical/interesting ones."
In an earlier email dated 25 April 2016, Dillon requested questions for an interview that Donald Trump was supposed to have with CNN's lead political anchor Wolf Blitzer.
The email titled, "Trump Questions for CNN" reads, "Wolf Blitzer is interviewing Trump on Tues ahead of his foreign policy address on Wed. Please send me thoughts by 10:30 AM tomorrow."
The latest revelations from the whistle-blowing outfit come less than a week after CNN cut off ties with interim DNC chairwoman and political commentator Donna Brazile after WikiLeaks released emails revealing that she shared debate questions with Hillary Clinton's campaign in advance. CNN announced on 30 October that it had accepted her formal resignation as a contributor on 14 October. Brazile denied the allegations in a statement issued on 11 October.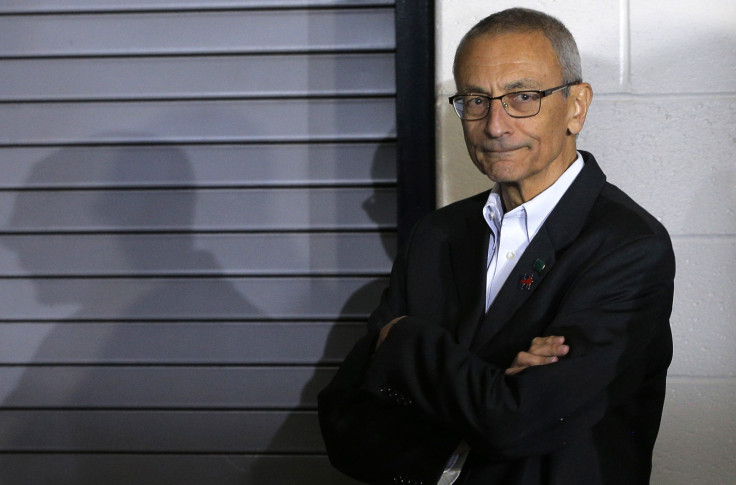 Another 25 July 2015 email exchange from Sunday's email dump between Podesta and long-time Clinton adviser Neera Tanden, showed Podesta suggesting that the reason close Clinton aide Cheryl Mills didn't want Clinton to run was due to the controversy surrounding her private email server.
"Do we actually know who told Hillary she could use a private email?" Tanden wrote to Podesta on 24 July 2015. "And has that person been drawn and quartered?"
"Don't you think Cheryl?" Podesta responded the next day to which Tanden replied, "I repeat, why hasn't this person been drawn and quartered? I'm reading wolf hall. This is something to be said for the power of torture."
"At least we now know why Cheryl didn't want her to run," Podesta replied.
The Clinton campaign has refused to verify or confirm the authenticity of the emails released thus far.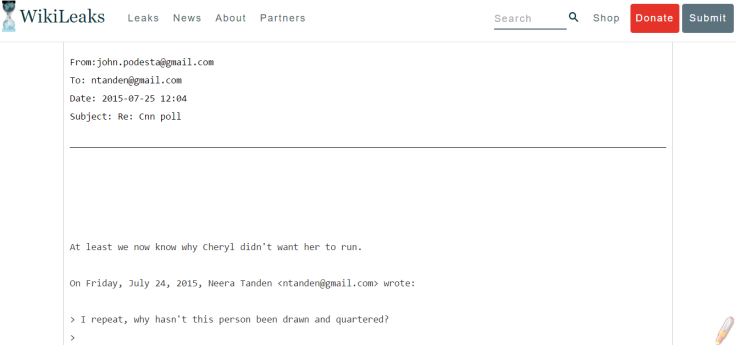 In a Twitter post on Sunday, Clinton's communications director Jennifer Palmieri wrote, "Friends, please remember please remember that if you see a whopper of a Wikileaks in next two days - it's probably a fake."
Meanwhile, WikiLeaks confirmed in a Twitter post on Monday that the infamous site was briefly offline saying, "That's rare." The organisation added that they are investigating the source of the downtime.
Clinton's camp have continued to blame Russia for the leaked emails, claiming that Russian President Vladimir Putin is trying to sway the outcome of the election in Trump's favour. Putin, however, has denied the allegations and any involvement in the ongoing leaks, dismissing them as "campaign rhetoric" and a way for American politicians to stir up "hysteria."
WikiLeaks has vowed to release more than 50,000 emails before Election Day on 8 November.